Paddling Magazine: 8 Unexpected Life Lesson From A 22-Month Canoe Trip Across America
The Freeman's Journal: River Journalist Honored with Topps Allen & Ginter Card
Reader's Digest: 22 RIVERS across 22 STATES in 22 MONTHS
Capitol Currents: 'Modern-day Huck Finn' Canoes Solo from Oregon to New York
Buffalo Roamer Podcast: Canoeing Across America, 22 Rivers in 22 Months
1Mississippi Podcast: May the River Be With You
The Waterways Journal: Long-distance Paddler Returns to Paducah
The Times of London: Modern-day Huckleberry Finn paddles 7,500 miles across America
Adventure Magazine (New Zealand): From Sea to Shining Sea: an American journey
The Dispatch: Partial to Home: Connecting us all
The New York Times: Two Years, 22 Rivers, 7,500 miles. Crossing America by Canoe
Adventure Journal: Neal Moore Finishes Two-Year Solo Canoe Journey With a Pack of New Friends
Explorers Web: Neal Moore Completes U.S. Canoe Crossing
The New Yorker: After Seventy-five Hundred Miles, a Long-Haul Paddler Floats Into Town
ABC Affiliate News 10: Cross-country canoer stops in Capitol Region before heading down Hudson
AllOtesgo.com: Oregon-to-NYC via canoe, with a hike to Cooperstown
Explorers Web: Neal Moore in Final Stage of Canoe Journey Across U.S.
Rome Sentinel: Cross-country paddler makes brief stop in Rome during 22-state trek
Spectrum News: Adventurer paddling his way across New York
Eagle News: From sea to shining sea: Cross-country canoeist stops in Baldwinsville
Lockport Union-Sun & Journal: Experiencing America up close
ABC Affiliate WKBW: Adventurer stops in Buffalo this week on cross-country canoe trip
NBC Affiliate WIVB: Cross-country canoer makes stop in Buffalo on his way to Statue of Liberty
The Observer: Going the Distance
The Jamestown Post-Journal: Cross-Country Canoe Trip Lands At Chautauqua Institution
Eight & 322: Paddling to find what America means
The Derrick & The News-Journal: Los Angeles native paddles through on nationwide canoe trip
Dvids: A journey across the rivers that bond America
The Daily Item: Oregon man paddling across the country makes a stop in Pennsylvania
Pittsburgh Tribune: Oregon man paddling across the country makes a stop in Pennsylvania
The Daily Sentinel: From Sea to Shining Sea via Canoe
Beaver County Times: Cross-country canoe trip on 22 rivers takes man to Beaver County
NKY Tribune: Bircus Brewery & Circus Mojo Hosting adventurer Neal Moore
Explorers Web: Neal Moore Paddles On Through A Changing America
NPR Affiliate INSIDE APPALACHIA: Traveling Through Appalachian Rivers By Canoes And Coal Barges
West Virginia Public Radio: Adventures Of A Canoer And Our Mountain Stage Song Of The Week This West Virginia Morning
CBS Affiliate WOWK: Man canoes 'from sea to shining sea'
CBS Affiliate WOWK: Cross-Country Canoeist Visits Charleston
The Herald-Dispatch: Cross-Country Canoeist Visits Huntington
CBS/CW Affiliate WSAZ: Man Paddling Canoe 'Sea to Shining Sea'
FOX Affiliate WCHS: Man making stop in West Virginia as he paddles across America
FOX Affiliate WXIX: Man canoes 7,500 miles across country, makes way to Cincinnati
ABC Affiliate WPCO (ran nationwide): Man's cross country canoe journey connects him to the past
Fourteen months ago in Astoria, Oregon, Neal Moore shoved off in his 16-foot Old Town canoe, bound for the Statue of Liberty, some two years and 7,500 miles ahead. The 49-year-old had come home after nearly 30 years abroad to rediscover America and share the stories of its people in a style of journalism all his own, "slow and low down from the view of a canoe." …
You can read Jeff's entire expedition interview at Adventure Journal here.
---
Discovering America in reverse
Long-distance canoeist Neal Moore stands next to his 16-foot Old Town canoe after an outing on the Buttahatchee Thursday afternoon near Caledonia. Moore is paddling from Oregon to New York City via a network of 22 rivers, and is taking a break in Columbus after paddling up the Tenn-Tom Waterway from Mobile. He plans to continue north to the Tennessee River and on to the Ohio. He expects to conclude his 7,500-mile journey in December. Courtesy photo/Birney Imes
Neal Moore admits he's going about this all backwards.
Two hundred years ago, Lewis and Clark made their way west across the North American continent on a  well-supplied expedition of discovery.
Moore is doing it backwards — from west to east —  with only a canoe and the supplies he can fit inside it. The 7,500-mile trek began on Feb. 9, [2020] when Moore, 49, paddled out into the Columbia River in Astoria, Oregon. He expects to complete the journey in December at the Statue of Liberty in New York Harbor.
Now, on the third and final leg of his journey, Moore stopped to rest and explore in Columbus this week before resuming his journey up the Tennessee-Tombigbee River and on up through the Great Lakes and the Hudson River.
Moore's journey follows a circuitous route including 22 rivers, which he has chosen as the name of his journey and the book he plans to write about the experience.
He may have started two years ago, but he's been an adventurer since his teens, when to satisfy his mother's deathbed wish Moore went on a Mormon mission — a rite of passage for young Mormon males.
Moore arrived in South Africa as a missionary, but while his religious work ended quickly, his love of roaming the world has remained.
"I'm sort of a nomad," Moore said. "I move back and forth between Taipei and Capetown, but I generally use them as a springboard to other places."
Yet for all his world-traveling, Moore began to be drawn back to his home country about 12 years ago when he ran across a book called "Mississippi Solo," by Eddy Harris, just as the Great Recession was beginning.
A freelance journalist, Moore saw how the media was reporting the recession and was convinced it was the wrong approach.
"They were going to the great financial centers, going to expensive restaurants and talking to people and saying, 'This is what's happening,'" Moore said. "I said to myself, 'That's not the story. The story is in middle America.'"
Inspired by Harris' book, Moore made his own expedition down the Mississippi River, using the stories of the people he met along the way to frame the story of the recession.
"Part of the idea for the trip I'm on now is that the most incredible adventure of one's life can be in one's own backyard," Moore said. "Having spent nearly a lifetime abroad, looking for adventure and going from culture to culture and continent to continent to find it (inspired me) to come back to my home county and really experience it raw and up close and real. It's a unique way to reconnect with a part of who I am."
Planting the seed
It was on that 2009 canoe trip down the Mississippi that Moore encountered someone who would plant the seed for Moore's current adventure, a man whose life as a river traveler also included a stop in Columbus.
Dick Conant, a colorful canoeist who became an almost mythological figure among river travelers, is believed to have died in 2014 in North Carolina. Conant met New Yorker magazine writer Ben McGrath, who decided to turn Conant's story into a book, which is set to be published this fall.
"I met Dick at the Brainard Portage on the upper Mississippi," Moore said. "He was on the greatest adventure of his life. When I asked him what his plans were, he said he was connecting rivers to travel all over the country. My jaw just hit the floor when he told me that. I didn't know it was possible. All those years, that idea was in my head like a mantra, that you can string these rivers together, that they connect, that it's absolutely doable."
COVID-19, which arrived about the time More was beginning his odyssey, has limited his visits with friends along his routes, but he's been able to tap into a loose network of kindred spirits on his journey, breaking up the isolation of the travel.
"You make connections along the way through what's called river talk," he said. "If you're a jerk upriver, people hear about it downriver. But it works the other way, too. If you're nice and genuine, people hear about that. So there is a long-distance traveling community that I'm pretty well tied into. People have really opened their arms. But at other times, it's the stumble-upons, people and stories that you encounter. As a storyteller, I love those."
As he grows closer to the end of his long journey, Moore said he's come to realize that it's as much a story about the past as it is the present.
"You touch base with the immigrant experience, the Chinese in the Northwest, the African American experience in the Delta," Moore said.
Moore said an encounter with a Native American near the beginning of the journey, gave him a perspective that has traveled with him.
"He said, 'You're going the wrong way, but doing it this way will allow you to document the destruction caused by the white man, sort of in reverse. Two hundred years ago, Lewis and Clark came right through here and my people helped them. There is a first people on every single one of these waterways you will travel.'"
Moore said that conversation convinced him the journey isn't just west to east, but across the American eras.
"Part of this for me is that you sort of see where we've come from, how far we've come and who we have become," he said.
---
Demopolis Times: Demopolis welcomes canoe paddler traveling from Oregon to New York
West Alabama Watchman: Journey of rivers bring canoer to Demopolis
---
Shelter in Motion: How Neal Moore Spent the Year of COVID Paddling Alone Across America
by Conor Mihel
One year ago, Neal Moore was a month into a 7,500-mile canoe expedition across the United States when the world descended into the chaos and uncertainty of the COVID-19 pandemic. The vagabond journalist launched his Old Town canoe in Astoria, Oregon, early last February, with the goal of paddling to the foot of the Statue of Liberty in New York. He coined the journey "22 Rivers"—for the number of big waterways he would travel and, also, for the number of states he would visit along the way. Traveling alone, Moore hoped to hear and share the story of Americans; CNN describes the 49-year-old Los Angeles native, who had been living in Taiwan, as a "modern-day Huck Finn."
Moore's only option was to keep paddling when international flights were grounded last March. "The journey itself—the canoe and my tent and all of my gear—became my home," he says. "And sheltering in place meant continuing the journey."
He fought the currents up the Columbia, Snake and Clark Fork rivers to the Continental Divide. Then, he cruised for eight months and 3,249 miles down the Mississippi to New Orleans. He marked the expedition's one-year anniversary on the Gulf Coast, waiting out fickle winds before beginning a long, sinuous route north to the Great Lakes and the Hudson River.
"In many cases, it's been hell and high water," says Moore. "I'm open to nature and the raw environment. I've been through a tornado, I've come through high winds and freak waves, I've really been up against it."
When we connected, Moore was in downtown Mobile, AL, having "just connected the Barrier Islands off the Gulf Coast of Mississippi and Alabama, stringing together Deer, Horn, Petite Bois, and Dauphin islands with intense open Gulf passages in between each." He'll soon be heading north through Alabama, Mississippi and Tennessee.
Despite all that paddling, it's his legs that are sore, strained to maintain his upright, seated position in the canoe, between his loaded canoe getting hit by a shark, escorted by dolphins, "and thrown around by the waves every which way—at times like I was atop a mechanical bull." At this many miles in, his arms and back are well tested and honed. "They know the routine," he says. "And any muscles that don't are going to find out. Because I'd say this journey is a perpetual all-body workout."
The upside of the day-to-day rigors on the journey means growing stronger by the day. "The old adage rings true," says Moore, "under such conditions, one goes from strength to strength."
Moore notes that his weight fluctuates by 10 pounds: losing it in on the water, when consuming a lot of water and camping for days on end; then gaining it back during city layovers. Still, he's confident that when he gets to his New York destination, approaching two years on tour, he'll be in the best shape of his life.
Besides the physical challenges, Moore has faced solitude. He envisioned a solo journey punctuated by visits from friends for sections along the way. Most of his companions were forced to bail. Meanwhile, lockdown orders meant he often missed the social aspects of stops in small-town diners, forcing Moore to adapt his usual methods of meeting locals and collecting their stories. In other places, Moore witnessed growing dissent for rules meant to curb the pandemic, including an anti-mask rally in Sandpoint, Idaho. "I was warned by friends to stay the hell away, but I couldn't help myself," recalls Moore. "I could see it was a spark, that that mentality was going to spread."
Yet Moore has also benefited from the friendliness of small-town America, even in these strange times—often observed from a curbside, as he dines on takeout. "The kindness, the humanity," he says. "It's just awesome."
That physicality, and that contrast between elongated isolation and interludes of joyful human interaction, have been a tonic for Moore—something he wrestles with when he catches himself dreaming about where his life will go post-trip. Moore admits he came into the expedition battling demons: childhood traumas he's failed to confront and encounters with skin- and testicular cancer. When he was in pain, wrought with uncertainty and facing multiple surgeries, Moore says, "I'd counter my aggression and self-induced pity by closing my eyes and dreaming of stepping away from it all."
He once wondered about his strength and stamina and ability to recover. But a year on the river has reaffirmed his capacities. "We have what is called muscle memory. Your body and your muscles remember," Moore notes. "While they don't necessarily like the idea of full-on adventure, I am a testament to the fact that they do."
Sometimes Moore struggles with aloneness, especially when he realizes he's floating in and out of peoples' lives, traveling on before relationships can take shape. Yet he's becoming content with that. "Out there on the water, I laugh every single day," he says. "It's a carefree laugh, a laugh of freedom. Am I really alone? Of course I'm not. I'm surrounded by nature personified, all around my craft. I am surrounded and I am enveloped with love. And it feels goddamn wonderful."
---
ExplorersWeb: One Year Canoeing Across America
Country Roads Magazine: A Glimpse of America's Soul
---
Neal Moore Interview: 12,000km by Canoe Across the U.S.
By Martin Walsh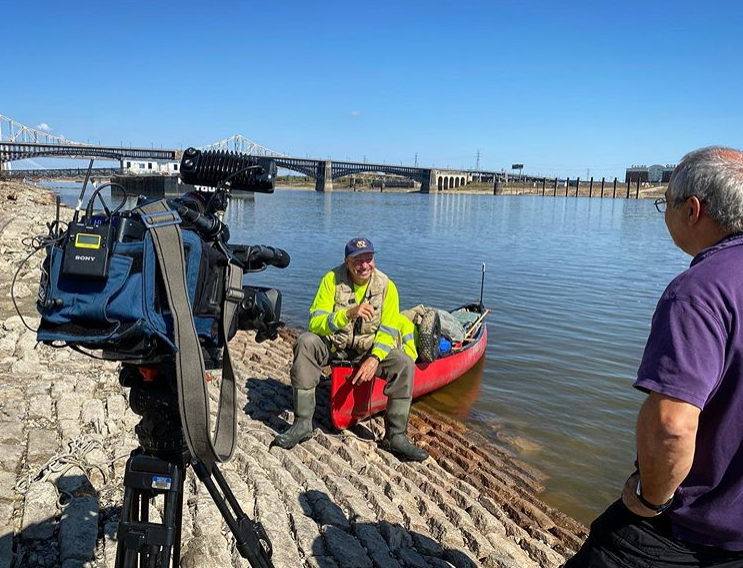 As we reported last week, Neal Moore is now over halfway through his 12,000km odyssey across the United States. He plans to paddle 22 rivers, portaging his fully laden canoe on a cart where necessary, and finishing in New York with a celebratory spin round the Statue of Liberty. ExWeb spoke to Moore about his journey.
Back in 2018, you made about 3,000km before stopping. Did you repeat the same route on this expedition? How did it differ this time around?
Two years ago, in 2018, I paddled and portaged against a rip-roaring flood on the Columbia and Spokane Rivers. The dozen-plus dams, including the Grand Coulee, were nearly fully spilling. This required a 16 to 32km portage around each one -– harness strapped to my limbs, wheels tied under the canoe and all my gear inside, pulling my craft like a mule on the side of the road. Soon after, I tipped in the St. Regis River in western Montana. After I got my canoe and some gear back, I missed out on paddling up the Clark Fork because of a 100-year flood. I eventually hung up my paddles in Watford City, N.D.
This year, I launched at Astoria, Oregon three weeks earlier, on Feb. 9, 2020. I was determined to paddle up the Columbia farther than last time, to just above the Canadian border, where I could catch the mouth of the Pend Oreille River and paddle to Lake Pend Oreille. Here, I'd follow the Clark Fork to Garrison, Montana, sticking to a waterway all the way to the Continental Divide.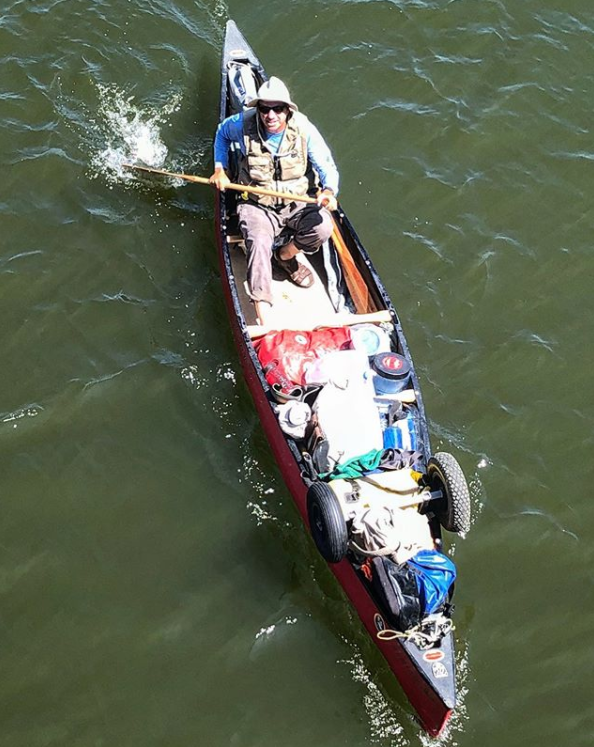 I was in Lewiston, Idaho nine days later. From here, I hiked 160km north along the Idaho border, paddled 100km across Lake Coeur d'Alene and portaged an additional 65km north to Lake Pend Oreille. I made my way to Garrison, Montana, where I repeated my portage up and over McDonald Pass and down the Missouri to the Mississippi, where I find myself now.
Which parts have been the most challenging?
The Columbia River Bar at the mouth of the Columbia River is known as the graveyard of the Pacific, the most dangerous stretch of water in the world. You have to come prepared with the right gear, a clear forecast and a lot of luck. Paddling the mouth of this river is an adrenalin rush, but once you make it around Tongue Point and into the "old-man sloughs," you're relatively okay.
There's a stretch of the Columbia River Gorge just above Bonneville Dam that's problematic when a strong wind gets behind you. New Englanders Pete Macridis, 25, and Timothy Black, 23, vanished on this stretch of river in 1978. Two years ago, I had a rough time here, but conditions got even worse for me farther upriver.
It'd taken a full day to portage the dam, and the next morning, winds were forecast for 17mph. I made a mental note to not paddle that day, but when the day looked pleasant, I made a too-rash decision and launched out. Following the Columbia River up along the jagged shore on the Washington side, I had a refreshing, gentle push of wind behind me at first, but this was soon followed by a gale. The waves pushing upriver chop into you unlike any other place I have paddled, propelling the craft quickly forward as you watch for obstacles –- boulders, submerged trees, anything that can capsize you. I managed to get into a cove an hour later, sitting on the slippery, jagged boulders as I held onto the canoe. The canoe was smashing up and down onto the rocks with each progressively larger wave, and if I didn't get it out, it would be destroyed.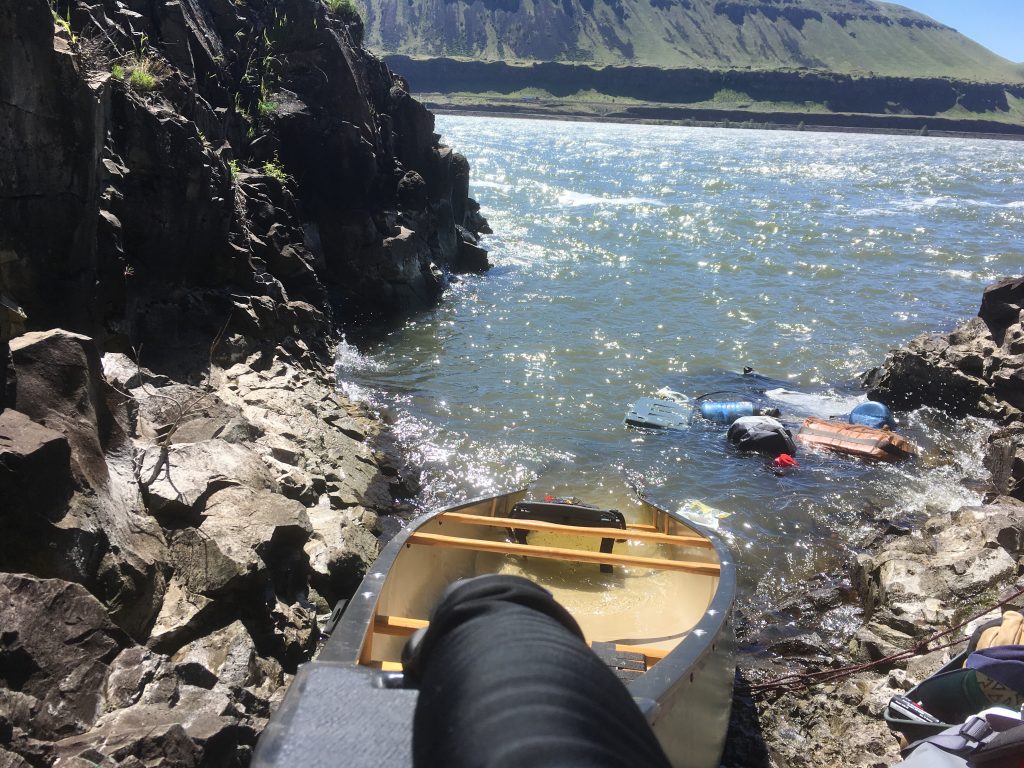 It was tense, and one ranger was asking the other if we were going to smash on the rocks. A dozen minutes later, the engines started back up and we made it out safely.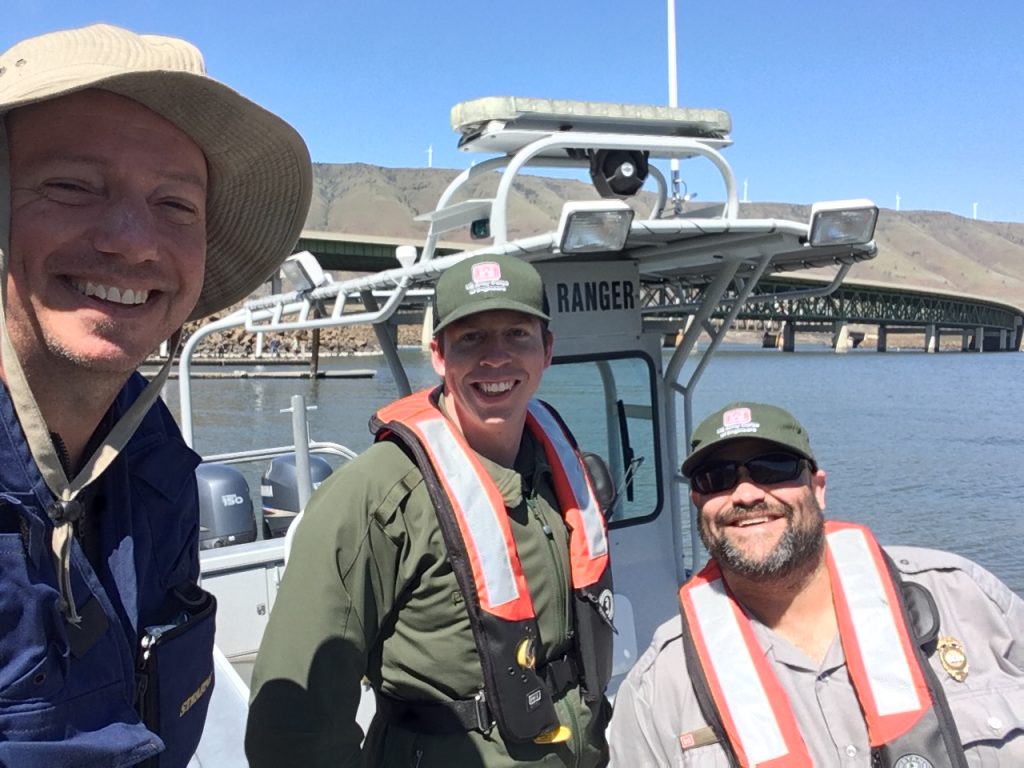 What stood out this time was both the ruggedness and remoteness of the Snake River. In the nine days I paddled her, I didn't see any other boats, and not one fisherman. I experienced sleet, snow, a torrent of rain, and wind pushing me forward, backward and side to side.
The tricky part of all this remoteness is that if you tip into the cold water, it's on you to save yourself. I had a wetsuit, a fire starter kit and a cell phone in a waterproof case (although no reception) on my person at all times. Once I thought I'd have to jump for it, because the wind and rollicking waves pushed me hard against a riverbank filled with obstacles. I pulled alongside a log and was bailing hard, because the waves kept breaking into my open canoe, but this log soon disappeared, and then I was grasping onto willows.
A half hour later, when I felt I couldn't hold on any longer and was ready to jump in and swim for shore, the wind changed on a dime, and it blew the canoe back out into the river.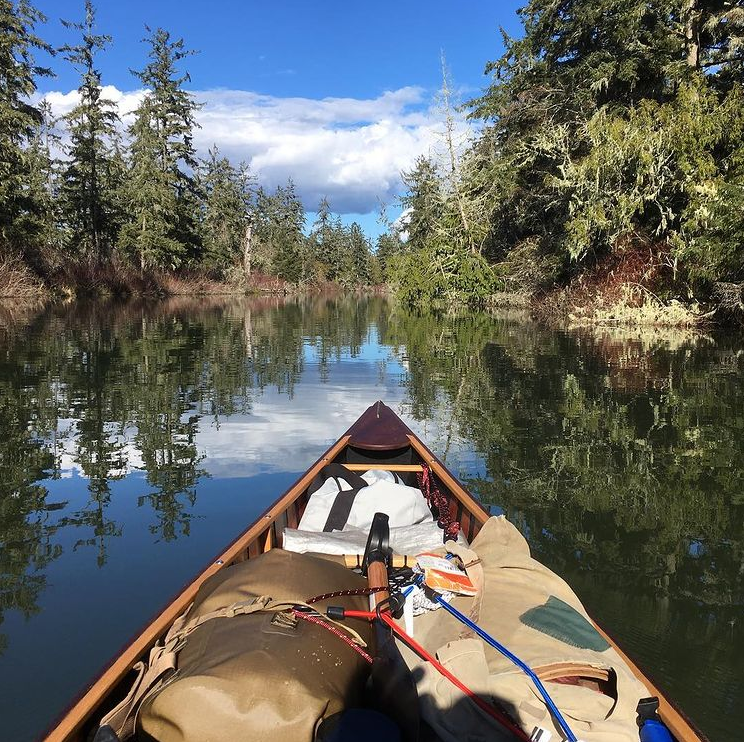 On my fourth night on the Mississippi, I was straddling one of these islands as the sun was setting. I was determined to get past these people and set myself up on a sandbar just under the dam at Clarksville, Missouri.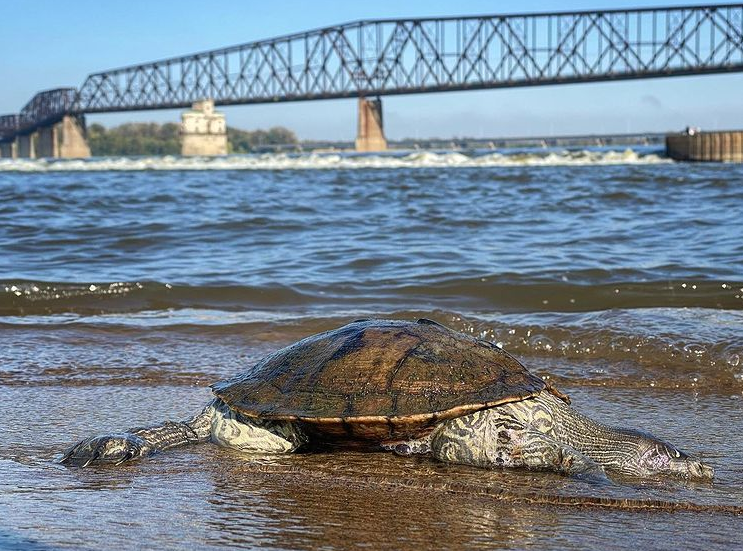 But as I struggled to get around the pelicans, a spotlight beamed directly through me and the pelicans. And they flew, all in one motion, up they went. A thousand-plus pairs of wings in one frantic motion, all lit up by the spotlight. The beam came from a tow pushing a load of dark barges. It had snuck up on me, and I was far too close to the flashing red light on the lead barge. I paddled for all I was worth to get out of the way, thankfully making another sandbar in time.
You have said you hoped to be able to talk to people and tell their stories. How has COVID changed this mission?
Talking to folks in a story-minded setting has been extensively curtailed this year. Instead, I'm mainly documenting the people I meet by chance along the way. I'm listening, learning, absorbing the ties that bind –- the threads that make us Americans. I'm looking to underscore our common humanity, but especially bringing into focus the immigrant narrative, the Black experience, along with what we can learn from Indigenous American wisdom.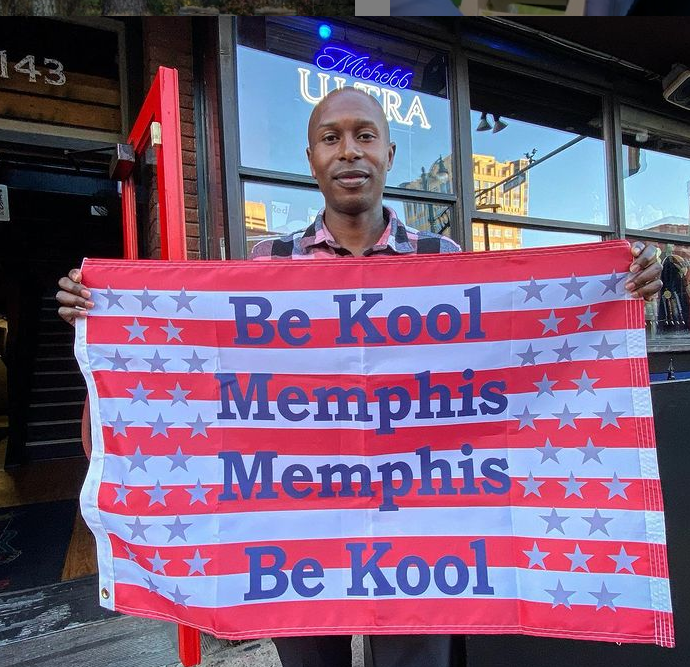 Hiking the Continental Divide was a challenge this second time, as I hit a late-May snow blast. It'd been forecast as rain the day before, but it snowed all day, for the hardest part of that climb. But I had the right gear, and when I got to the top of the pass at 6,312 feet, I was the only camper. There was a foot of snow and soon I had my tent set up. I was out of my wet clothes and into the warm.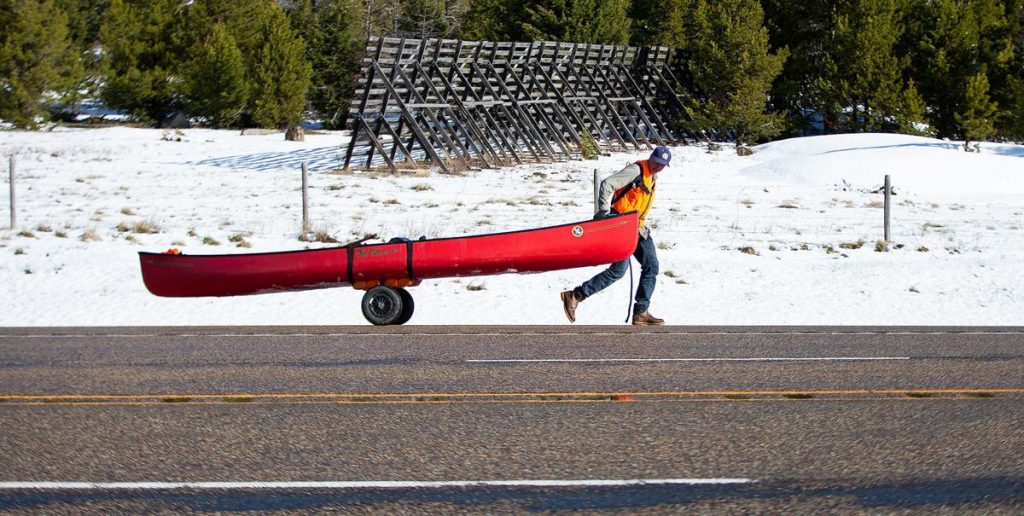 The following day was brilliant sun with no wind, and it was an easy portage down to Helena. The local paper's photographer came to snap some shots of me portaging my belongings down the mountain. The moment he got his shots and headed back to town, a grizzly showed up. He came over the divider, his back hump prevalent, and ambled across the road 50 feet in front of me. I was harnessed from behind, attached to the canoe and wheels and gear, and by the time I got my gloves off to try to snap a picture, he was out of sight.
Where are you now and what are your plans for the second half of the journey to New York?
I'm in Memphis and will be back on the water in a few days. I'll continue down the Mississippi to New Orleans, which I hope to reach in mid- to late-December. From there, I'll skirt the Gulf Coast and along the Intracoastal Waterway, then up the Mobile, Tombigbee and Tennessee rivers, down the New River, the Cumberland, the Dix and the Kentucky rivers. Up the Ohio, up and down the Kanawha, and up the Allegheny River. From Lake Chautauqua, it'll be uphill and downhill for days over Portage Road to Lake Erie. Then it's the Erie Canal, the Mohawk, and down the Hudson by December 2021 to see what has always made America great!
You can follow Moore's journey on Instagram.
---
Canoeist Halfway Through Coast-to-Coast River Trip
BY SHELLEY BYRNE
A man canoeing the nation's rivers from the Pacific to the Atlantic wants to share a story about how interconnected both they and the Americans living and working on them are.
Neal Moore, 48, expects to be midway through his 7,500-mile journey this week when he reaches Memphis, Tenn. He saved money from a year and a half of teaching English in Taiwan to afford his two-year journey, which he purposely planned for the year before and the year after the election for the American president.
Moore was raised in Los Angeles, Calif., but he has lived much of his adult life overseas. He spent time as a missionary in South Africa, as an aid worker and, among other adventures, trekked across northern Ethiopia with a donkey named Gopher. Eleven years ago, he canoed down the Mississippi River, and it left an impression on him. Now he is expanding upon that voyage by solo canoeing 22 rivers in what he said is believed to be the longest continuous solo canoe trip ever undertaken from coast to coast across the United States.
"The idea is to come back to my home country and see it up close and personal and coast to coast, to see old friends and meet new friends along the way," Moore said.
Moore left the West Coast, paddling up the Columbia River and past Portland, Ore., on February 9. He is in a red, 16-foot Old Town Penobscot canoe. He hopes to canoe around Ellis Island in New York Harbor to complete his journey by the end of 2021.
Moore picked the year before and after the election as a time to travel in part because of the deep political divisions in the country. At a time others are focusing on differences, he said he hopes to shed light on what brings people together, instead.
"It's the ties that bind us together," Moore said. "It's looking at what we have in common."
Part of the journey travels the same rivers explorers Meriwether Lewis and William Clark traveled on their Corps of Discovery expedition, although Moore notes he is doing so in reverse, in part to avoid the onerous task of paddling up the Missouri River.
"The big idea as I'm on, along and in these rivers is to be able to try to document stories and talk to people from all walks of life, different ethnicities, different immigrant tales, the idea being when you string all these rivers, when you string all of these stories together, you'll have the story of America."
Moore is recording the stories of many of the people he meets on the trip and compiling them into a book. People may follow his journey and donate at 22rivers.com as well as purchase books on past adventures, which help fund future ones. He is also documenting his trip on Instagram at @riverjournalist.
Moore's route so far took him from the Columbia River to the Snake River. He then portaged 200 miles due north to Lake Pend Oreille in northern Idaho, where he caught the mouth of the Clark Fork River and went up past Missoula to the town of Garrison in western Montana. From there he portaged 60 miles over the Continental Divide to Helena and the Missouri River. He came down the Missouri to the Mississippi, pausing to paddle upriver 116 miles to Hannibal, Mo., hometown of Mark Twain. He paddled to the confluence of the Ohio River, then took another detour, paddling 50 miles upstream to Paducah, KY.
"I was just really keen to get a taste of the Ohio River and also to see the mouth of the Tennessee since I'll be on the Ohio and the Tennessee next year," Moore said.
Moore then paddled back down the Ohio to the Mississippi and is traveling downstream. When he reaches the Gulf of Mexico, he will then skirt it 150 miles to Mobile, Ala., before taking the Mobile and Tombigbee rivers, the Tennessee-Tombigbee Waterway and the Tennessee River, eventually catching the New River near Knoxville, Tenn., and then the Cumberland River. From there, he said, he will take the Dix River and then the Kentucky River through Frankfort before dumping out into the Ohio River just downriver from Cincinnati, Ohio.
Moore will then paddle up the Ohio River to Pittsburgh, Pa. He plans to take a side tour on the Kanawha River to see West Virginia because he has never been there.
"What I'm really excited about are parts of the country I haven't been to before," Moore said.
He will return to Pittsburgh and then catch the Allegheny to upstate New York, and at Chautauqua Lake will portage on a road named Old Portage Road about 10 miles. He plans to skirt the edge of Lake Erie to just above Buffalo. From there the Erie Canal will turn into the Mohawk, which dumps into the Hudson River around Albany, N.Y.
"Then I'll ride the Hudson right on down to New York City," he said. "The end game will be the Statue of Liberty. You can't land there, but you can paddle around there."
Moore said unlike 11 years ago, he is equipped with a marine radio, which should help with communicating with towing vessels and other boats. He promises to do all he can to stay out of the way of passing tows and doesn't normally canoe at night, spending most nights in his tent, usually on a nearby island or sand bar.
Although he is on a very different trip than that taken by others up and down the country's rivers, Moore said once again there is something that connects him to many of the others who choose to spend their time on them.
"Coming from Los Angeles and then based in a place like Taipei, it just really feels liberating," he said. "It feels great to be out in the wild, whether it's the extreme highlands or lowlands of Ethiopia or whether it's in and along these major rivers, which by and large are extremely rural. It's an exciting feeling to be out there surrounded by nature."
---
Neal Moore Retraces the Steps of Lewis & Clark, Part Two
By Les Winkeler
GRAND TOWER — Neal Moore has packed a lot of adventure into his 49 years, beginning with a Mormon mission trip to South Africa as that country was emerging from apartheid. Moore has spent most of his adult life in Africa and Asia, but has longed to return to his American roots.
The California native is currently in the middle of a 7,500-mile trip in which he hopes to reconnect to his native country in an incredibly personal way. He is essentially retracing the steps of Meriwether Lewis and William Clark's epic Voyage of Discovery.
He will travel 22 rivers over 22 months while making his way from the Columbia River in Oregon to Ellis Island in New York. Moore recently spent the night in Grand Tower where he provisioned himself, just in time, for colder weather.
An author and freelance journalist, Moore's goal is to gain insight into the soul of America, to dissect what Lewis and Clark have wrought, there is another side to the trip that Moore had to take into consideration while planning. Twenty-two months in a canoe, making your way through some of the biggest, as well as most treacherous water in the United States takes a toll – mentally and physically.
The reality of paddling nearly 7,500 miles is one of the reasons Moore is doing the trip from west to east … he'll spend a lot more time traveling downstream.
"I've been planning and planning this for quite some time," Moore said. "I was looking at initially going from east-to-west, naturally to tell of the progression. I was given a contact of Norm Miller, he runs the Missouri Paddlers page. He paddled a canoe in 2004 from St. Louis, up the Missouri River and over the divide. Talking to him what he said was it's not the physical part, the struggle.
"I looked at the map, I knew there'd be 200 miles from Cairo to St. Louis, to come up the Mississippi, then up the Missouri, but what he said was psychologically, for hundreds and hundreds of miles on the Missouri to paddle up, it's wild up to Yankton, knowing you could walk faster … So, looking at the map I got excited thinking, 'What if I could do the whole thing in reverse?'"
That's not a small consideration when you begin a 7,500-mile journey will some back issues. To compensate he outfitted the canoe with a back rest and steeled his mind.
"You're forced to be strong," he said. "Your body becomes strong, but also, mentally, you have to see that goal. It goes back to being an Eagle Scout where I wanted to give up and dad said, 'You can't give up. You started something, you have to finish it.'"
He began a similar trip a couple years ago, but flooding forced him off the water.
"Two years ago, I was against a 20-year flood on the Columbia River," Moore said. "It's really heave ho, I really like the idea of the open canoe. You're experiencing the same hardships they (Lewis and Clark) would have encountered as well. You're opening yourself up to hell or high water quite literally.
"But, you're also open to all of the good. You are going to meet people who aren't so nice. You're going to meet people who might wish you ill. You're going to meet a lot of people who are there to support you and encourage you that you can learn from as well. That also goes hand-in-hand with their experience as well."
That's where the psychology kicks in. For 22 months, Moore will basically be isolated on the river, except for the people he meets along the way. There is no room for a support group in his [16-foot canoe].
During the course of the journey, he will spend most of the time with his own thoughts.
"You have to will yourself forward," Moore said. "You fight and you fight. This is a part of life as well. You have to have a goal and you have to sort of struggle. And, part of the beauty is the struggle. There are days where you just whistle and you just laugh at the beauty, the beauty of this river. You also have the other days where you are fighting for your life."
He said his early life featured frequent moves, forcing him to make new friends on a regular basis. That experience is coming in handy on the trip, although there are still some difficult times.
"The psychological part, I don't like big crowds too much," Moore said. "I really like the idea of being out there. At the same time, I've moved for the majority of my life. When I was a kid we lived in eight different houses in Los Angeles.
"Especially doing these stories, you have these intense kinds of friendships that are short, then you have to get back on the water. That, for me, I think is the hardest part. As my mom tried to teach me, by leaving you're opening yourself up to the possibility of the realization of more friends and stories down the road."
You can follow Moore's progress and chart his new friendships at www.22rivers.com.
---
Outdoors – Neal Moore Retraces the Steps of Lewis & Clark
By Les Winkeler
GRAND TOWER — In the early 1800s Meriwether Lewis and William Clark traveled the Ohio, Mississippi, Missouri and Columbia rivers on their Voyage of Discovery. Their task was to discover the extent of the North American continent.
Two hundred years later, Neal Moore embarked on a journey re-tracing their steps in reverse, trying to discover what that country has become. While Lewis and Clark traveled from east to west, Moore left Portland, Oregon and will traverse 22 rivers in a 16-foot Old Town canoe before his journey ends at Ellis Island in New York City.
"I think to have a chance to travel from coast to coast and to not only see the country up close and personal during this time, the year before the election and the year after the election with all the negativity, but to string all these rivers together," Moore said. "But, to try to delve deeper and meet the people along these waterways, these storied waterways and sort of listen. To be able to learn from people and to try to document the innate goodness of people and what are the ties that bind us together from coast to coast.
Specifically, I'm looking at immigrant stories, at diversity, and how diversity is a strength as well. But, really, all sorts of stories, and now with COVID thrown in, before I launched out the story was the election, before and after. With COVID thrown in the storytelling has been enhanced, you find the recession we are going through as well. When times are tough, that's when people step up, families step up, communities step up and people help each other. That's what I'm sort of doing."
When Moore stopped in Grand Tower last week to resupply, he was approaching the halfway point of his 7,500 mile journey. Through all the miles on the water, the small towns like Grand Tower, the major cities like St. Louis, a major stopping off point for Lewis and Clark, Moore finds himself not only absorbing history and making new friends, but also learning about himself.
"I think I've learned that I'm more anti-social than I probably thought I was," he said with a chuckle. "I'm in it over 3,500 miles now, I'm going to hit the halfway mark at Memphis. I'm definitely not good at a lot of things, but I've learned I'm not too bad of a storyteller, and also I can paddle long distance. I think mentally it takes somebody who is twisted in that way. I've stepped back from friends all my life. You have to be able to live with yourself. Some people can't do it."
At the same time, Moore talks about the brief, albeit intense friendships, he makes along the way, telling the stories of average Americans who inhabit river towns, the waitresses, grocery clerks and campground hosts. He talks of the melancholy attached to leaving these new friends behind as he paddles downstream in search of the next friendship.
The force that keeps this trip, this story alive, is the river. Moore developed an affinity for rivers as a 12-year-old Boy Scout on a canoe trip near Los Angeles. It was reinforced while visiting the Tagus River near Toledo, Spain as an exchange student.
"The human body is 70 percent water and they say the surface of the earth is plus-minus 70 percent," he said. "I think there may be some sort of correlation. The water is also soothing. It has a soothing effect on people."
In the present, Moore, who is currently a resident of Taiwan, draws his strength from the Mississippi.
"It's really the water itself," he said. "I have this tent. It's screened off where you have this 180-degree view. I pitch the tent most nights and I'm open to the water. I'm sort of connected to the water. It might sound silly, but even in my sleep, I can hear the sounds, I can hear the tows going by, the barges, the trains, the whole deal.
"I feel connected. I think that feeling of being on the water and about the water and in the water and beside the water, it's sort of strengthens my soul. It makes me feel really quite alive, as opposed to being in the clock-in, clock-out in a major city."
An author, Moore previously published "Homelands" the story of his Mormon mission to South Africa. He said there may or may not be a book resulting from his current journey.
Readers can follow Moore's journey online at www.22rivers.com.
618-351-5088
On Twitter: @LesWinkeler​
---
Man Canoeing 7,500 Miles Across America Makes Pit Stop in Paducah
By Chris Yu, Multimedia Journalist
PADUCAH — It's a journey that spans two years, 22 rivers, and 7,500 miles. A man who is canoeing across the U.S. made a pit stop in Paducah Thursday.
Neal Moore is a Los Angeles native who was working as an English teacher in Taiwan.
On Feb. 9, he began his solo canoeing journey at Astoria, Oregon. He then paddled through the Columbia River, the Snake River, the Clark Fork, the Missouri River, and the Mississippi River, before going through the Ohio River to reach Paducah.
Moore will stay in Paducah for a few days before canoeing to New Orleans, then to Mobile, Alabama, followed by Pittsburgh, and eventually to New York City. His goal is to reach the Statue of Liberty by December 2021.
Moore, who is a writer and freelance journalist, said he will author a book based on his experiences during the journey.
"What I'm looking at is a two-year expedition — the year before the election and the year after the election," said Moore. "And what I'm looking to explore is how these rivers connect all the way across the country, as well as how communities connect, how we can come together as a nation and really to explore the ties that bind us together as to dividing us apart."
Moore said challenges during his journey include strong winds and severe weather. But he's willing to deal with them.
"I'm traveling in an open canoe for a reason," said Moore. "I'm open to all of the elements. I'm open to Hell or high water, to everything that nature can throw at me. But I'm also open to days like (Thursday), and also to meeting new people and taking myself out of my comfort zone."
Moore said the title of the book is yet to be determined. He has authored two other books, including "Down the Mississippi," which chronicles his 2009 journey through the Mississippi River during an economic downturn, featuring people he met along the way who shared advice on what worked for them. His other book is a memoir of his time as a youth in South Africa, which coincided with Nelson Mandela being released from prison and eventually becoming the country's president.
Visit 22rivers.com to see updates on Moore's journey.
---
Man canoeing 22 rivers stops in Cape Girardeau
CAPE GIRARDEAU, Mo. (KFVS) – A man paddled his canoe up to the Cape Girardeau riverfront, just one stop along his 7,500 mile journey.
"Just a chance of a lifetime," said Neal Moore.
Moore's adventure started in February in Oregon, and he plans to make his way to New York City by December 2021. His trip takes him through 22 states and 22 rivers.
"As a kid, 12-years-old, probably as a Boy Scout, I spent a half a day on a canoe. I just fell in love with it," said Moore.
Now, he gets to see the country from a unique perspective, from sleeping on sand bars to navigating the currents on the river by day.
"The opportunity to see it like this. Up close and personal, and to be able to experience the nature and the towns and the people as well, and to be able to learn from the community. To learn from our history," said Moore. "Not really having an agenda but by coming through and just listening to folks, it strengthens my takes on humanity itself, on the best of us."
Folks like Donna McClark from Jackson, who waved him down to come to shore in Wittenberg, Missouri a few days back.
"I was so excited. I have a video of it. I was really excited," said McClark.
She then decided to stop and cheer Moore on in Cape Girardeau as well.
"He's right. We do need to all pull together in all of these smalls downs and learn the history of each place and take care of each other. It's just an absolute must, especially right now," said McClark.
Although times are tough right now, Moore said he sees people step up and come together each stop of the way.
"To be able to come through and try to document that and learn from the people and feel of their spirit just feels great," said Moore.
Moore isn't new to canoeing. He paddled the length of the Mississippi River once before.
He plans to write a book about this trip. You can follow his journey on his website, 22rivers.com.
Copyright 2020 KFVS. All rights reserved.
---
A total of 7,500 miles;' man canoeing from Oregon to NYC stops in St. Louis
By Dan Greenwald
News 4, CBS Affiliate KMOV
ST. LOUIS — Inspired by a St. Louis author and St. Louis history itself, one man is on the adventure of a lifetime, taking a canoe onto 22 rivers and rowing more than 7,000 miles across the county.
Neal Moore is traveling with an expedition canoe and 500 pounds worth of gear. He started on the West Coast and is going first to New Orleans and then to up to the Hudson River in New York. He stopped in St. Louis Sunday.
"I have my tent, I have my freeze-dried food for the rest of the year, all the way down to New Orleans," he said. "Connect two rivers and 22 states; a total of 7,500 miles from coast-to-coast by way of the Gulf and the Great Lakes."
He says he has stories to tell along the way.
"In the age of COVID-19, some of the storytelling has been enhanced because when times get tough, you find people who are giving, who are remarkable," he said.
You can track his journey by clicking here.
Copyright 2020 KMOV (Meredith Corporation). All rights reserved
---
Author Neal Moore is Paddling on Nature's Interstate
Story By Laura Miserez, Missourian Features Editor; Photos By Julia Hansen, Missourian Photo Editor
For Americans of European ancestry, Ellis Island is where their families' journeys to discover the country began. For Neal Moore, 48, Ellis Island, with its iconic Statue of Liberty, will be where his journey ends.
Moore is on the trip of a lifetime — his words — traveling the length of 22 rivers across 22 states from Astoria, Ore., to New York City in a canoe. The Mark Twain Museum and CNN have both called him "a modern-day Huck Finn," but even Mark Twain's most famous character didn't travel as far as Moore will on this expedition. He first launched his canoe into the icy waters of the Columbia River Feb. 9 and is intending to travel 7,500 miles to arrive in the Upper Bay of the Hudson River around New Year's Day 2022.
He rested in New Haven Monday, grabbing a coffee at NorthStar and getting his canoe repaired at Paddle Stop New Haven. He passed Washington Tuesday on his way to St. Charles. He will connect to the Mississippi River near St. Louis and head south toward New Orleans, which he hopes to reach by Christmas. From there he'll cut across the Gulf of Mexico 150 miles to Mobile, Ala., and then paddle north to Tennessee, Ohio, Kentucky and Pennsylvania via the Tombigbee, Tennesse, Dix, Kentucky, Ohio and Allegheny rivers. He'll reach Lake Erie before turning east along the Hudson River.
Moore is an author and citizen journalist. He's a Los Angeles native but has lived in South Africa, Egypt, Ethiopia and Taiwan. For him, this adventure is a unique way to explore his own home country, connecting people and their stories in the process.
"The rivers bring people together," Moore said. "The first roads built, the first communities built in this country were along the rivers. By stringing these river communities together from coast to coast and adding them up, I think I'll have the story of America, and that includes all of us."
Moore, who has two published books, is chronicling his expedition via Instagram @riverjournalist and online at 22rivers.com, where people can donate to help fund the trip. Although he is collecting notes of conversations he has with the everyday Americans he meets and the history he learns along this journey, Moore hasn't started planning for a book about this adventure yet.
"As a storyteller coming along, the big thing for me is to put my biases aside and to actually listen, to speak to people and to learn from them," Moore said.
'Local Knowledge Will Save Your Life'
Each section of his route requires special knowledge to navigate, and Moore relies heavily on the expertise of people living along the river. For the Missouri River, that meant connecting with the Missouri River Paddlers, a Facebook group where more than 3,000 people from Montana to St. Louis exchange information on paddling the Missouri River. The group also has a website, missouririverpaddlers.com, where members post updates on where along the routes the travelers are.
Norm Miller founded the group in 2010. He lives near the base of the Missouri River in Montana and has been dubbed the source of knowledge on the Missouri River and its paddling community.
There are also at least several hundred people in the group who live along the river and volunteer to feed, house, resupply and assist the travelers who arrive in their towns. They're called "river angels," a term Miller coined around 1998 based on the "trail angels" who help hikers on the Appalachian and Pacific Crest trails. He said the group, particularly the angels, are one big family willing to help anyone who wants to get on the river.
"We've had paddlers given airplane rides to scout the route ahead," Miller wrote in a message. "Sean Trombly, who is paddling from Montana to the Gulf and is in South Dakota currently, had his guitar stolen in Bismarck, and 35 members chipped in to buy him a new one. I FedEx'd it to him last week."
Miller paddled with Moore for a few days when he was in Montana. In New Haven, Moore met the local river angels — Lance Strohecker and Gary Rice of Astral Glass Studio, and Shane and Stacy Camden, who own Paddle Stop. Shane Camden said they see five to six travelers come through every year.
"Typically they (the travelers) are taking time off work, so it's easy to offer some dinner or a few drinks," Shane Camden said. "If they have to provide themselves food and drinks and shelter for three or four months, that gets quite expensive. So we as angels take them in and help them out."
The Road Less Traveled
Moore started Feb. 9 with the most dangerous section of his journey and one of the most dangerous waterways in the world — the Columbia River Bar in Oregon. He said people in the nearby town of Astoria are part of multigenerational fishing and tugboat industries, so they were able to help him prepare to survive. Moore laughed that they also probably thought he was crazy for attempting it.
"You have the ocean pushing in and this massive river pushing out," he explained. "If you can survive that, you're doing well."
Astoria is also significant as the grand finale to Lewis and Clark's 1805-06 expedition of the western United States. Moore thought it was fitting that he begin his journey at the spot where such an important one ended.
From Astoria he continued up-current and eventually lugged his canoe up the Continental Divide inside Glacier National Park, Mont. He entered the Missouri River in May at its origin in Montana and started paddling toward North Dakota.
This section of the journey was familiar terrain. Moore first attempted his 22 rivers expedition in 2018, but he started nearly a month late and was facing a 20-year flood on the Columbia and Spokane rivers and a 100-year flood on the Clark Fork River. He almost drowned in the St. Regis River near Missoula.
"I came around the bend, and a huge tree was blocking the river and pulling me in," Moore recounted. "I thought to myself, 'I am absolutely not going under. Whatever happens, I am not going under.' As I came to hit it sideways to slow down, my canoe swung out and tipped me (into the water). One second I looked, and my canoe and all my belongings in the world were gone. The next second I saw myself grab onto the roots and scrape my way up."
After surviving what Moore described as a "near-death experience," he restocked in Missoula for a month before continuing on his route. By this time he'd traveled the 1,800 miles to Tobacco Gardens, a historic RV park near Watford City, N.D., and he was far behind schedule and still shaken up.
"I wanted to hang up the paddles as a pause, not as giving up," he said.
He decided to restart this journey back at the beginning in February instead of continuing on from where he left off so he could achieve a truly continuous journey. Going back to the beginning of his route offered him a chance to visit friends he'd made on the previous trip.
Moore said the interactions he has in the tiny towns he encounters feel earned because he's worked so hard to get there.
"It's an honor to walk into these towns," Moore said. "By walking the streets and meeting people, you get a feel for the heartbeat — who they are and how they operate."
St. Louis Inspiration
A longtime avid traveler and an author, Moore started thinking about traversing America's rivers 12 years ago. At the time, his only experience with canoes was half a day as a Boy Scout, nearly a lifetime ago. But he stumbled upon St. Louis writer Eddy L. Harris' 1988 book, "Mississippi Solo." Harris was a novice too, and it gave Moore hope that he could accomplish a similar feat.
Moore previously canoed 2,300 miles down the Mississippi from Lake Itasca, Minn., to New Orleans in five months in 2009. He co-wrote a 2012 book about the expedition, "Down the Mississippi: A Modern-Day Huck on America's River Road," with the former executive director of the Mark Twain Boyhood Home & Museum in Hannibal, Cindy Lovell.
Since then he's written a second book. Published in 2017, "Homelands" recounts his experiences as a 19-year-old Mormon missionary in Cape Town, South Africa, in the early 1990s. His work has also appeared in The New Yorker, Der Spiegel, a German-language publication, and on CNN International.
Moore, who departed from the south shoreline of the Missouri River near New Haven on Tuesday, said he enjoys his moments of solitude out on the river where he is free from the noise of modern-day America. He travels without music and books on tape, instead his ears are filled with the orchestra of nature as his eyes scope out the horizon before him.
"To be on the water is a phenomenal way to experience the country," Moore said. "You literally have nature all the way around you, beneath you, to the sides, above you. To see the country — really see it, up close and personal, in such a fashion — it's a journey of a lifetime."
---
22 Rivers Shape America's Story, Chapters of Long-Distance Paddler's Own Life
Moore canoeing on 22 rivers in 22 states to cross the United States
By Dan Swanson
NEBRASKA CITY – Neal Moore describes himself as an "internationalist" and river journalist as he attempts to take 22 rivers in 22 states and carve a new path across America, but arrived at Nebraska City Tuesday with the idea that the rivers are carving him.
Moore was born in Los Angeles and lived the majority of his life in Africa and East Asia. He said he is drawn by the idea of seeing his home country up close and personal from an open canoe.
The CNN contributor and Taiwan English teacher launched where The Columbia River meets the Pacific Ocean and came upstream to the top of the Continental Divide at MacDonald Pass, Mont.
His journey includes sometimes pulling his canoe on wheels overland to connect the 22 rivers. He first put his canoe into the Missouri River at Helena, Mont.
Moore: "This is my second go-around. I tried this two years ago and I made it about 1,800 miles to Lake Sakakawea ( in North Dakota) and so I had confidence I could make my way up the rivers, over the divide and this time around actually go the distance."
The long-distance paddler had earlier descended the Mississippi River and compared each river odyssey to a new chapter in his own life story.
Moore: "Every river acts different and so the Columbia, for example, you start off with the Columbia River bar, which is the most dangerous waterway in the entire world. Luckily this time around I had really good weather when I was coming across."
Moore: "Coming up the Snake, it's remote and it's rugged and in the age of COVID there were not … in nine days of paddling the Snake not one boat, not one fisherman on that river. I didn't see anybody for the first five days."
He described the Clark Fork River in Idaho as a rock-bed river. After setting up camp, an upstream dam went from very little water to 30,000 cfs overnight.
Moore: "It washed out my canoe and most of my gear. I woke up and I was lucky enough not to be washed out myself."
Moore: "These rivers were the first thoroughfares in North America. The first roads built in America were built along the side of these rivers. The first communities, the first settlements were on these rivers. There is so much history and to travel by canoe it's sort of a nod to the Native Americans who came before us, as well."
He said he is grateful for "river angels" who show him hospitality and river towns where there is a sense of history and grit.
Moore: "The big thinking is, as you piece these 22 rivers, as you connect these 22 rivers, and, of course, all of the stories along the way, by the time I make the Statue of Liberty there in New York City, when you add up all of these stories, when you look at the history – the people who have come before, the people who live here now – the history beneath the feet of the people I'm able to meet and befriend, you really have the story of America."
He thanked the "river angels" at Nebraska City who provide hospitality for river paddlers.
He expects to make it to New Orleans by the end of 2020 and paddle down the Hudson River before the end of 2021.
https://www.instagram.com/riverjournalist/
---
Man Touring America by Canoe Stops in Plattsmouth
By Timothy Rohwer
PLATTSMOUTH – Neal Moore is touring the country in what he described as a most "amazing" way.
The California-bred Moore, who has lived overseas for the last 30 years, has returned to America and is seeing it by canoeing on its major rivers—from Sea to Shining Sea.
"To come back to my home country and to see it this way is truly amazing," Moore said during a stopover in Plattsmouth on Tuesday.
He started his cross-country journey in Oregon at the mouth of the Columbia River in early February, and reached the Missouri River in Helena, Mont., in early June.
Moore is currently canoeing down the river and hopes to reach New Orleans, La., by year's end with the goal of reaching New York City on rivers by the end of 2021. "This would include reaching Lake Erie near Buffalo, hopefully before winter arrives," he said.So far along the route, Moore has faced "extreme" lightning storms and a tornado where fortunately a storm shelter for cover was nearby.
"To experience the raw power of nature is really something."
He estimates his journey from start to finish will total 7,500 miles.
At the height of the Great Recession in 2008, Moore decided to canoe on the Mississippi River to see America from a different view.
"I was finding hard-luck towns and each had a cause or a theme," he said.
Eventually, he met a man from Montana who was living his life on the rivers, Moore said.
He told Moore to slow down on his journeys, to get out and walk around and learn of the people along his routes.
On Monday evening, Moore camped on a sandbar near where the Platte River meets the Missouri. On Tuesday morning, he toured downtown Plattsmouth and met patrons at a Main Street restaurant where one of them paid Moore's meal.
"I'm happy to be here," he said of his visit.
On Tuesday evening, Moore was scheduled to stay overnight in Nebraska City.
He hopes to write a book on his experiences after finishing his journey, Moore said.
"To come back and see your home country in this way has to be the greatest adventure of your life."
---
Canoeist attempts cross country journey
NBC/ABC Affiliate DAKOTA NEWS NOW
By Austin Goss
PIERRE, S.D. (Dakota News Now) – South Dakota has a special traveler passing through right now. If his journey is successful, he'll become the first solo canoeist to pass through the country continuously from East Coast to West.
Neal Moore is a published author and former CNN contributor, who has traveled the world as a way to draw inspiration for his work.
"What I'm doing is connecting twenty-two rivers across twenty-two states that's going to take roughly twenty-two months," Moore said.
Moore has completed similar journeys down the Mississippi River and up the Columbia River. Despite all his travel, this is his first time ever in South Dakota.
"The rugged natural beauty, I've just found the sunsets and sunrises and just the storms that sweep across the river… are unbelievably beautiful… also potentially dangerous."
Moore has been able to find refugee along his journey with people of similar interests. In addition, he has gotten a little advice.
"I'm his local meteorology guru for wind speed and direction, and other assorted facts about the river," said Randy Birch, an avid water sports enthusiast.
If successful, Moore's journey will end at one of America's most famous landmarks.
"The end game is to come down the Hudson River, to New York City. I plan to circle around the Statue of Liberty, land at Liberty Park in New Jersey. The backdrop is going to be Lady Liberty, with Manhattan behind it."
Moore has been in South Dakota for about two weeks after coming down from Bismarck, North Dakota. He will be in the state for about two more weeks if everything goes according to plan, and will exit out the Southeastern part of South Dakota going towards Omaha.
Copyright 2020 Dakota News Now. All rights reserved.
---
Explorer's Goal: Paddle 22 rivers across America in two years
NBC affiliate KPVI & The Montana Standard
By PAT HANSEN
On an "adventure of a lifetime," Neal Moore is making a 7,500-mile journey across the United States in a canoe connecting rivers from the West Coast to the East Coast.
Moore, 48, left Astoria, Oregon on Feb. 9 and has paddled up the Columbia, Snake and Clark Fork Rivers.
"It is a challenge, but anything in this life that is worthwhile is a challenge," Moore said.
Moore continued his portage from the Clark Fork River to the Missouri River in a snowstorm Friday to the top of the Continental Divide on MacDonald Pass, a 1,200-foot elevation change that he called "a hell of a climb." More than a foot of snow accumulated during the night as he camped under a tree.
On Saturday he descended into Helena where he will put into the Missouri River on his way to the Mississippi River and New Orleans. Next year he plans to paddle from New Orleans to Mobile, Alabama then navigate rivers north concluding the journey at the Statue of Liberty.
Moore said he is inspired by the late Dick Conant of Bozeman, an unrivaled long-distance paddler and Navy veteran who went on many grand canoe adventures. "We met on the upper Mississippi River and he planted in my mind that it is possible to connect the rivers across the nation."
Conant vanished on his last adventure in 2014 on the Atlantic Intracoastal Waterway headed from the top of the Hudson River to Florida. His canoe was found by a duck hunter, but his body was never found and likely was swept out to sea.
"I looked into connecting rivers across the country when I learned of his death," Moore said. "This trip is to pay homage to Dick Conant. Some of the route for this journey is what he covered from Mississippi, Alabama and north."
An amiable man with a big smile, Moore is an explorer, author and journalist who said his trip is all about the stories of people he meets along the way, as well as the adventure.
"The idea for 2020-21 is to travel in a traditional style canoe to chronicle the story of America leading into the election and the year following with an emphasis on the thread that unites us — what it feels like, looks like and tastes like to be an American from Oregon to the Statue of Liberty," Moore said.
"The first thoroughfares in this country were rivers, the first roads went along these rivers, the first settlements, towns and cities were built along these rivers," Moore said. "The canoe pays homage to those people who came before us. It is a challenging mode of travel, but is doable. When in the canoe you are down low, inside of the river, nature is all around you in a rugged wilderness. I have a front row ticket to not only nature and adventure, but to the history of America and the stories of all these different people and their experiences."
With the coronavirus pandemic, Moore said this trip is a self-imposed solitary confinement where he goes days with no human contact. On the Snake, Moore said he didn't see a human for five days.
Camping wild is the best possible place to be during a pandemic, he said, and that's why he camps on islands away from people. Because he doesn't want to cause any COVID-19 problems for friends or acquaintances when he come into town, he wears a mask and practices personal distancing.
"I am not a reporter, but a journalist storyteller. With coronavirus, meeting people is more difficult. I love greasy spoons in small towns because that is where locals go and old-timers can be found telling stories over coffee. With the gradual opening of restaurants I look forward to meeting some of them … at a distance,'' Moore said. "This is a difficult time for many people, Moore said, but where you find trial and tribulation with the coronavirus, we see people helping others, putting their shoulder to the wheel, rolling up their sleeves and coming together. When I walk the streets of a town, I get the feel of the pulse of the community, and have chance meetings with individuals, these stumble upon stories are always the best."
A two-time cancer survivor, Moore grew up in Los Angeles and was inspired to become an explorer after reading adventure books. Having lived in Africa and Asia for many years and been on several solo explorations since 2003, he considers himself a citizen of the world.
Documented in his book "Down the Mississippi," Moore said, "When not on an adventure, I dream. In 2008 I had an epiphany that the best adventure of my life would be in my own backyard — in my own country. That led to a 2009 canoe trip down the Mississippi River from its source to New Orleans."
Two years ago, Moore attempted to canoe from Astoria to New Orleans, but rivers were at 100-year flood stage. On the St. Regis River he had a brush with death when his canoe capsized in the frigid water after it came in contact with a fallen cottonwood tree and he lost most of his gear. He was able to get to Missoula where he regrouped and then portaged from there to Helena pulling his canoe. He later stopped in North Dakota after more than 1,700 miles.
He spent the past two years living in Taiwan where he taught English to earn money to finance his adventure.
On April 23, when Moore first entered the Clark Fork River out of Lake Pend Oreille on the Idaho/Montana border, the water was flowing 5,000 cubic feet per second. He paddled until evening when a severe lightning storm was approaching and he made camp on a large island.
"I'd taken the canoe and other heavy gear at least 30 feet away from the water, up and onto the island, and made camp several hundred feet further away,'' Moore said. "Come first light, the water had risen significantly and strong, deep currents had replaced the rocks where the canoe had been the night before. They were all gone."
Moore said that during the night Avista Power released water from the Noxon dam and water was flowing at 30,000 cfs. He notified the sheriff he was okay and Avista employees in a jet boat recovered the canoe that had overturned and most of the equipment that had floated downstream.
After portaging past the dam, Moore put into the Clark Fork River.
"I've been dreaming about paddling (the Clark Fork) for many years. It's magnificent and wild, and incredibly beautiful," Moore said.
To follow his journey: 22rivers.com; Facebook – Neal Moore; Instagram.com/riverjournalist
---
Journalist portages canoe through Helena on 7,500-mile cross-country paddle
Helena Independent Record / The Missoulian
By Tom Kuglin
HAVE CANOE — WILL TRAVEL
Neal Moore says he couldn't live with himself if he didn't try again.
Moore, 48, made his way over the Continental Divide near Helena on Saturday toting a canoe filled with his belongings. The two-day trek over MacDonald Pass amid a mid-May winter blast and grizzly bear encounter comes nearly three months after he started his journey from the West Coast – a 7,500-mile adventure he hopes will culminate two years from now when he paddles around the Statue of Liberty in New York.
"I had been a traveler for most of my life," he said. "When you start traveling internationally, you meet other travelers, and the question is always, 'What's next?'
Moore is originally from Los Angeles, but has lived overseas in Africa and Taiwan for decades. He considers himself somewhat of a "citizen of the world," enjoying returning to his home country to document his adventures as a freelance journalist.
He floated the Mississippi River chronicling the economic downturn in 2009 for CNN and his work has also appeared in the New Yorker and Der Spiegel. Long distance paddling and storytelling are two of his great passions.
"It happens to be two things I'm good at," he joked. "I'm not good at a lot of things but I can go long distances in a canoe and I can story tell. The actual physical nature, day-in-day-out nature of it, mixed with the chance to stumble upon stories is sort of challenging, it's fun and it's a real adventure."
It was on the Mississippi that he befriended fellow paddler Dick Conant of Bozeman. Conant spent years paddling across the country in his canoe and offered invaluable advice.
"When I started out on the Mississippi River like a lot of other long distance paddlers, I was going as fast as I possibly could," Moore said. "What Dick taught me was to slow down, it's not a race and to just enjoy the journey and learn the history of the places you're passing by."
Moore's 22 Rivers project is the second attempt at his latest adventure. He paddled up the Columbia and Snake rivers, portaged for about 100 miles, and after crossing the Divide will launch on the Missouri River in a few days. He plans to float the length of the Missouri and Mississippi to New Orleans where he will then connect rivers north to New York and his ultimate goal of the Statue of Liberty.
Moore suspended his first voyage two years ago after paddling and portaging more than 1,700 miles from Oregon to North Dakota. That trip included a potentially life threatening crash on the St. Regis River when a snag caused his canoe to tip and belongings to scatter.
Moore felt he must return to attempt the trip again but debated whether to begin where he left off or depart again from the West Coast. The ability to link the rivers together in one journey proved to be the deciding factor.
"I don't think I could've lived with myself if I didn't try it again. To start over again, and I had friends argue it both ways of whether to continue where I left off or to try again," from the West Coast," he said. "It came down to my own thinking and this crazy dream route. The route I selected, it had the chance to be continuous."
Moore holds a degree in English literature – he teaches English in Taiwan – and also learned about filmmaking while at the University of Utah. He shoots videos, writes and photographs his adventures on the website www.22rivers.com and Instagram at https://www.instagram.com/riverjournalist/.
"It's sort of a personal project and it's something that might get picked up by news agencies or not, it might result in a book, but I'm not doing it for that reason," he said.
"The actual thinking is to touch America, to try to come across to see it firsthand and experience the rawness and the transformation."
As with nearly all aspects of life these days, the COVID-19 pandemic has proven a powerful influence on Moore's project. Many campgrounds are closed and "river angels" who offer assistance to long distance paddlers have had to alter the help they can provide.
The river itself offers a sort of "solitary confinement" that lends itself well to traveling during the pandemic. Where he has stopped to see friends, he has distanced himself by camping in a garage or travel trailer and staying out of homes.
For Moore, COVID-19 is now part of the story he hopes to tell.
"My thinking now is it's actually still possible to chronicle stories," he said. "You meet up with people who are really interesting characters and have something to say. The thinking now is to have this time and to underscore what's working with what people are facing with the virus as well as the economic fallout."
While he understands the hardship many currently face, Moore also hopes to find inspiring stories.
"The whole thing with journalism is that it's positive journalism as well … to find and highlight the American collective of what's working and to find and highlight these unique and interesting characters," he said.
---
What Happens When A Pandemic Hits Mid-Way Through Your Cross-Country Paddle?
ADVENTURE JOURNAL by JEFF MOAG
How do you shelter in place, when your only place is a canoe and a tent?
Taipei-based paddler and journalist Neal Moore set off in early February to cross the U.S. in his canoe. He paddled right into a pandemic. Read Jeff's full article at Adventure Journal here.
---
'Up the Columbia, and beyond:' Paddler Neal Moore returns to the rivers on 22-state cross-country trek
By Kirby Neumann-Rea
Journalist and voyager Neal Moore is used to the strange looks and skeptical questions when he tells people he is paddling the Columbia River on the first stage of a solo canoe expedition overland to New York City.
"Why would you want to go to New York City?" a Montana rancher once disbelievingly asked Moore. In Hood River this week, he got similar reactions.
"I tell people, it's not New York City itself — that's the destination, It's what I find along the way. I'm on the lookout for stories that connect and unite us, not divide us," said Moore, who embarked aboard his fully-laden 16-foot canoe from Astoria on Feb. 9.
Moore chronicles his adventure on 22Rivers.com — a reference to the number of rivers he plans to follow, along with some overland portaging, to reach Astoria, Queens, New York in about two years. Moore said his timeline is open-ended, due to encounters with weather and water conditions he must prepare for, and the range of human contact he relishes.
With "22 Rivers, 22 States and 7,500 Miles Across America By Canoe," Moore was en route east this week from Hood River after spending four days here. He planned stops in the Memaloose and The Dalles areas, and then to Rufus, where he will connect with friend Bud Herrera, a Umatilla tribal member who serves on the Columbia River Inter-Tribal Fisheries Commission.
The new cross-country paddle is his second attempt; in April 2018 he traveled through Hood River and by autumn 2018 made it as far as North Dakota before his second boat and second set of portaging wheels gave out and he decided to regroup.
This year, he considered returning to the same location in the Dakotas and picking up where he left off, but preferred to do the entire route uninterrupted — more or less. Moore did break up his journey three weeks in by getting a ride from Cascade Locks back to Astoria in order to attend the annual Fisherpoets gathering there. He had friends reading at Fisherpoets, and learning about peoples' lives and experiences on the river is part of Moore's ongoing journey as a freelance journalist, film-maker and explorer.
"I know the recipe I found in Hood River County is that of collaboration and people trying to connect with each other, and in this part of the world, all up the Columbia, I'm finding that the salmon and all that it means is the central defining point," Moore said.
He has also traveled the length of the Missouri and Mississippi rivers solo by canoe and has written extensively on the experiences, including the book "Down the Mississippi."
Moore, 48, is a California native who has lived and worked in Cape Town and a total of about 16 years in Taipei, Taiwan, as a teacher and journalist. He returned to Taipei in autumn 2018.
Back on the Columbia and with 21 more rivers to touch, north and east, Moore plans to assemble new stories along the way, as well as circle back with people from Hood River County that he met and blogged about two years ago, including Gladys Rivera, who he met in 2018 and has since been appointed to Hood River City Council, the first Hispanic woman ever to serve on council.
Frequently asked if he plans a book or other compilation of his journey, Moore said he is open to the prospect but "I'm mainly in this for the experience." He enjoys reconnecting with friends he made on the first third of the intended trans-continental route, and meeting new people and telling their stories.
His 22 Rivers route will take him to Trail, B.C. via the Columbia, and then south again via the Pend Oreille River, connecting later with the Missouri and Mississippi, then through a maze of southeast U.S. and Appalachian rivers back up through the Ohio River system, the Great Lakes, and down the Hudson — to Astoria, Queens.
---
Montana Television Network: 22 rivers, 22 states: Crossing the country by canoe
MONTANA TELEVISION NETWORK (NBC/KTVH & CBS/KPAX-TV)
By: Kasey Herman, Meteorologist/Reporter
(GREAT FALLS) Neal Moore is a writer and a freelance journalist, but he also gives himself the title of "explorer."
From the Pacific Coast all the way to the Atlantic Coast, Neal is working his way across 22 rivers in 22 states, totaling 7,500 miles, both paddling and walking his canoe.
He has been an expatriate for years, spending time in both Asia and Africa. But he realized the greatest adventure of all might be in his own home country.
His goal for this trip is to see the different cultures that make up the United States and highlight who we are as Americans.
He started his journey in Astoria, Oregon, where he came up the Columbia River, up the Spokane River, to the Clark Fork River, then finally had to walk his canoe over the Continental Divide.
Now, he's right here in Great Falls, where he will be going with the current on the Missouri River.
Neal says, "To come across the country in a natural way with nature all around you and then to be able to connect and listen to folks all across the country is just a really exciting idea."
Neal previously canoed the Mississippi River in 2009 during the great recession and wrote a book of his travels. The book is called: Down the Mississippi. He will have a book reading in Fort Benton on Friday, July 13th at the Public Library from 3:30-5:00 PM.
Neal actually got the inspiration to do this trip from a gentleman from Bozeman that he met during his trip on the Mississippi in 2009. He taught Neal a lot of things, including slow down and enjoy the adventure. He taught him how to connect rivers on a journey, and if two rivers do not connect, you have land wheels on your canoe to haul it to the next water source.
You can follow his journey on Facebook and on his website.
---
Canoe trip spanning 7,500 miles reaches Wenatchee
by Bridget Mire
WENATCHEE — Neal Moore has had many adventures living overseas on and off for about 25 years, but an idea came to him in 2009.
"I had this epiphany," he recalled. "What if the greatest adventure of my life was in my own backyard, so to speak?"
So he paddled down the Mississippi River, ultimately producing 50 stories of how people were coming together and making it through the recession.
Now, the Los Angeles native is back in his canoe – this time, with an even bigger journey in mind. His trip as planned will span 22 waterways, 22 states and 7,500 miles.
The goal is to connect 100 stories from 100 cities and towns to tell the story of America.
From his start in Oregon, Moore arrived in Wenatchee on Friday. He had never been here before.
"You've got the wine country, you've got this arid landscape with this intensely beautiful river cutting through," he said in an interview Saturday. "(Friday) I spent the whole day walking downtown, trying to get a feel for the place. I'm not sure exactly what's going to happen with the story — or if there will be a story — but the people that I'm meeting are just incredible. People who are transplants but have been here for 20 years."
He left Wenatchee on Monday and will travel to Idaho and Montana next.
Moore was out of the United States for the last six years, but he saw that everyone was paying attention to Washington, D.C., especially after the November 2016 presidential election.
"But then the second question mark that I've observed has been, what about the rest of America?" he said. "That's where this journey comes into play. The idea is to come from the Pacific Coast to the Continental Divide to the Gulf of Mexico to the Great Lakes to the Statue of Liberty. … My thinking is to sort of highlight who we are as Americans – what we look like, how we tick, how the American experiment ticks — and to show the very best of us."
Some cities are part of Moore's plan, but he's also discovering places for stories as he travels. He's gotten some recommendations on people to talk to from organizations like museums and chambers of commerce.
He said he doesn't want to create a script or put a spin on a story, but rather to listen and document what he learns.
"It's not about man against nature," he said. "It's not about X number of days to come across the country in record fashion. It's more about the communities and the people. The highlight, for me, is not to turn the camera on myself so much, but to turn the camera on the communities and be able to highlight their stories."
Moore mostly camps but sometimes stays with friends of friends.
He said he chose to canoe rather than drive to honor the country's first peoples and first thoroughfares. It also allows him to take his time with the project, he added.
"With the paddling, combined with the journalism, you feel like you've earned these towns," he said. "You're paddling, sometimes for days and days, and the story ideas are swirling around in your mind. Then you step into a town, and you're so excited to be there, and now you're trying to pull off a story of international consequence. It's a challenge on top of the physical challenge."
In addition to writing, Moore takes still photographs and videos. His ultimate plan is to turn the stories into a book.
He expects to complete his journey by December 2019.
---
Roots and branches: Voices on the journey
Photo by Maija Yasui
JOURNALIST Neal Moore at the Hood River marina with his Navarra canoe, shortly after his arrival in Hood River. Moore hit the Columbia River again April 9 and two days later it cracked during portage around The Dalles Dam. Moore found a new, stronger (and lighter by six pounds) canoe through a private seller in White Salmon and expected to continue his journey by Thursday.
By MAIJA YASUI
Chance encounters can sometimes be life changing in grandiose or miniscule ways. You may not realize at the moment of the encounter, but years later, you may look back and say, "Hey, if I hadn't responded to Kirby's call and connected with Neal Moore, we may have missed the opportunity of having our youth featured in a story in the New Yorker, a documentary on CNN or a book detailing a canoe voyage across America." The journey of 7,500 miles from sea to shining sea is described as a "voyage of discovery into the depths of America's soul." Moore's desire is to tell the stories of the diverse communities he encounters along the way in an effort to "understand and celebrate individuals, families and communities rising above themselves." What was to be a brief stop in Hood River turned into a week of discovery for Moore and the community.
I have always believed that building relationships is key to living life fully. I don't believe in fate, but I do believe that if you are open to interacting and potentially forming a relationship with those you meet, your life will be enriched. Much can be learned about yourself, about those you meet and the way they perceive the surrounding environment.
Back to Kirby's phone call. It came at a somewhat inopportune time. I was in the emergency room with my youngest granddaughter waiting for the doctor to come in and do an examination. She had exhibited some painful symptoms that morning at school which suggested appendicitis. Aya is a wisp of a second grader, who seldom complains about physical discomfort. She reminds me of a willow sapling, tall and slender, physically strong, swaying in the breeze, family roots and love grounding her. Seldom do tears well up from monkey bar blisters or brother's inadvertent kicks or pokes. Insensitive remarks or inequitable treatment are another matter, turning on a fire hose of tears. All turned out well. No appendicitis or nasty flu bug detected. Rest and relaxation were the words from the wise doctor and we followed the orders precisely.
I visited with Kirby briefly, hearing tidbits about a man he hoped I would speak with, a man who had paddled upstream from Astoria on a journey of discovery. These tiny morsels of information intrigued me, and I said "Sure, have him give me a call."
*
That afternoon Neal Moore gave me a call and I learned a little bit more of his journey. It would be 7,500 miles across American, from "sea to shining sea." He would chronicle his journey and document through film, newspaper article and book the stories of small towns and big cities along the way. These were stories of hope and inspiration that underscored the spirit of our country and its remarkable diversity. I was all in at this point, and agreed to meet at the library the next morning, spending a day introducing him to the people and places that would showcase our community.
As I pulled up in front of the library, I could see a soggy young man standing on the steps in the pouring rain. My bad. The library didn't open for another hour. We sought refuge in my home in Odell. Over several cups of coffee and a plate of chocolate chip cookies, we began a lengthy conversation about Hood River and the people who make this such a beautiful place to live.
Neal said he had enough stories to research that would take him through the weekend, but he hoped I could connect him with a place to stay and store his life possessions now packed in his canoe on the marina. I first offered my home, but thought better of it when I realized that the people he would need to talk to lived down the valley and transportation by canoe is limited in that respect. We pondered this transportation dilemma and agreed to meet later in the day after I went to my blood donation appointment. I was optimistic that I could find someone willing to house him for the next few days.
*
As I waited in line for my Rapid Pass review at the Red Cross station, I began texting folks living in town, and who are connected to activism, the theme Moore chose to highlight. Let me tell you, a lot of networking gets done at a blood drive. Like-minded people seem to extend their hands and hearts as well as their arms to give life to others. After a few "out of town" replies to my texts, who before my astonished eyes would appear, but an angel in fashionista clothing, Barbara Young. We chat. "Sounds interesting," she says. "We have an RV in the driveway he could use. It would be better than the pouring rain camping on the rivers edge." Relief. A warm place to stay and one of the connecting hubs of activism in our community. After a brief call to her husband Gary, Barb learns that they have plans the next three days.
I move behind the "veil of secrecy," a curtain used by the Red Cross staff to review my health history. Suddenly I hear Barb's sweet voice calling. "Hey Maija. I am waiting here with Paul Blackburn and he says he has a room."
I am ushered to my donor bed and the needle is inserted, blood filling the bag rapidly. At the precise moment I finish, Paul plunks down on an adjacent gurney. I fill him in on a few details and the connections begin to fall into place. The Blackburn/Dillon household is full of activism and connections for our intrepid paddler.
*
The following days are a whirlwind of conversations with Gorge Ecumenical Ministries, Latinos in Accion, The Next Door, Somos Uno … From there, he is on to the individual activists' stories, Vicky, Gracy, Adriana, Montserrat, and Cristina. Moore has to extend his time in Hood River another three days to make all these connections. He has just scratched the surface.
Moore's story begins in a community where helping hands, hearts and arms are extended willingly and compassionately. It is the story of many generations who have met discrimination and adversity head on, inspiring a new generation of movers and shakers.
My story is the story behind the story; of the list of friends and acquaintances who began making the connections for Moore to meet our youth, our dreamers, our student activists. These students passionately believe that all lives matter, that our schools should be safe, that people of every age, gender, ethnicity, and faith should be respected. Their belief has been transformed into action, raising their voices, mobilizing their peers, proposing solutions to the problems plaguing our society.
I like the story behind the story that Neal Moore will tell. It is the story of our community at its finest moment, day in and day out.
---
A Voyage Across America by Canoe
Photo by Kirby Neumann-Rea
From the Pacific to the Atlantic coast, Neal Moore (pictured) will travel a total of 7,500 miles across America in the next two years, by both canoe and land, to document and connect stories of diversity.
#Over the past eight years, former CNN [citizen] journalist Neal Moore has not traveled, but has lived in Africa and China to try and understand different cultures instead of just experiencing them.
Now, he's on a mission to understand ours in America.
However, his voyage to understanding America is unique in a way that connects himself with the origins of this country.
In 2008, Moore had this idea that, "What if the greatest adventure was in your backyard?"
Not literally in "your backyard," but instead the backyard of this country: rivers.
"Before we had roads, we had rivers," said Moore. "To really understand where we come from, my journey relies on using the nation's rivers with my choice of transportation being a canoe, as that's how I feel is the best way is to learn about the origins of this country as I am putting myself in the shoes of those before us."
In a two-year expedition, Moore's solo journey by canoe stretches 7,500 miles across the country.
Born and raised in Los Angeles, Moore's access to outdoor recreation growing up was a hard thing to come by.
But what helped him to venture out of the city was becoming a Boy Scout.
Moore, who is an Eagle Scout, had his first experience with canoeing at summer camp at the age of 12.
That experience, along with his passion for storytelling, helped lead him to the 7,500-mile voyage he currently is on.
The mission of Moore's journey is to document and understand stories of diversity from Astoria to Queens, New York, to find the "common amongst us all," said Moore.
Moore started his two-year voyage early last month in Astoria because of its "rich history of diversity," said Moore.
Astoria is home to the first U.S. settlement west of the Rockies, and saw some of the nation's earliest migration with Chinese immigrants.
And with Queens being one of the more diverse places in this country, Moore's decision to highlight these two cities as a start and end will help him discover "the common between our nation," he said.
"By taking my canoe through the rivers of this country and connecting the stories from Astoria to Queens, I'm trying to give face to a country that's split into two," said Moore.
However, it won't be easy.
Moore's expedition will take him across 22 different rivers and states, including the Columbia River, where he's currently paddling.
"The Gorge is a different animal," said Moore. "It's like nothing I have experienced river-wise."
Not only will canoeing across the country be a difficult task — Moore already feels he has developed arthritis from paddling his canoe 152 miles into this journey — but trying to understand a country and the people within it in a short period of time will show itself as a challenge.
Although that's what makes this journey achievable for Moore.
"When you push yourself outside of your comfort zone, you must make new connections and it puts yourself in new situations that you wouldn't be in otherwise," said Moore. "That's what makes you grow."
Moore split his journey up into three parts: to the Great Divide, the Big Easy, and to Lady Liberty.
Moore hopes to complete the first 1,086 miles of his journey to the Great Divide in two to three months. To follow and learn more about Moore's journey visit 22rivers.wordpress.com/about-the-voyage.
---
Spinning a story
Freelance journalist sets off on 7,500 mile canoe odyssey
The Daily Astorian
Published on March 9, 2018 12:01AM
Neal Moore, a freelance journalist called "a modern-day Huck Finn" by CNN, set off from Pier 39 in Astoria last Saturday to start his two-year 7,500 mile cross-country canoe expedition. But his mission is more than the journey — along the way he wants to "spin a story of the human face of the economic situation. And in Astoria, I'd love to start out with a good one."
To that end, he wanted to interview Astorians "from the Nordic, Finnish and/or Chinese-American community who run a business. … The idea is to speak about the first settler inhabitants of the town (these three cultures), and see what they're up to today."
Regina Willke at the Astoria-Warrenton Area Chamber of Commerce helped him set up interviews, and he was off and running. He talked to Liisa Penner, Pam, Julie, and Lori Lum, Robbie, Roger, Ron, and Flora Law, Berit and Yorgen Madsen, Saara Matthews, and Sari Vedenoja. Floyd Holcom was Neal's departure consultant, advising him on the tides and safest time to leave, and local writer Peter Marsh took the photo shown of the actual takeoff.
The Astoria interviews will be the first of his 100 stories across America, which will turn up on his blog at tinyurl.com/NealMoore in a few months. Photos are already up on his Instagram account at instagram.com/alittlewake, and you can also follow his travels at fb.me/alittlewake
"The town has been so very hospitable and friendly," he recalled of our fair city. Apparently Astoria made as good an impression on Neal as its residents.
---
ATLANTA, GEORGIA (CNN.COM) —
iReporter Neal Moore left the northern source of the Mississippi River in July and ended his trip in New Orleans in December, traversing the Mighty Mississippi the whole way by canoe. His mission was not only to document his canoe journey but also report on and participate in positive and uplifting stories of American communities along the way. To view CNN.com's "Down the Mississippi" retrospective CLICK HERE.
---
APRIL 27, 2010
THE OXFORD ENTERPRISE: Neal Moore – A modern-day Huck Finn
Writer to pen book about canoeing the Mississippi
By Joseph Williams

The Oxford Enterprise Senior Writer
Neal Moore was just passing through when he first thought he'd sit a spell in Oxford.
He was headed to New Orleans on the Mississippi River. He followed the current down the spine of America for months after dropping his canoe in a mountain stream in Minnesota. As a writer, the current did well to lap this far east and deposit Moore in a guest bedroom a stone's throw from Rowan Oak.
Moore wasn't just idling down the river either. He was documenting the passage.
As a citizen journalist, he makes it his business to go to the edge of somewhere and chronicle life. This year, it was the Mississippi.
Now, with pages of photographs, video footage and interviews on the CNN Web site, Moore wants to write a book about the Mississippi trip. For the next several months, he's taking refuge in the coffee shops and bars of Oxford to pen his river memoir.
"I can't think of a greater place to write. You've got Bottletree Café. You've got the balcony at Square Books. You've got Ajax Diner with the bar. It's a wonderful place to write that you've got here. I mean, look at this place," Moore says, waving an arm to encompass the backyard pool and landscaping of his hosts' home, the green, springtime buds of Bailey's Woods and, beyond that, barely visible through the trees, Rowan Oak.
Local residents Bob and Jane Pekala scooped up Moore and offered him their guest bedroom, first while he was passing through with his canoe in-tow and now, again, while he writes.
But Moore's life in Oxford at the Pekala residence is luxurious compared to the last half of 2009 when he spent his days heaving his oars ever south. He slept along the river, hiked into towns to interview the residents and often mourned his solitude.
Some days, he would float away from the kindness of others, away from new friends and inspiring families, and the weight of isolation would bear down on his little canoe, and he would cry.
The first time his emotions got the better of him was in Iowa where he spent several days with a family of sustainable farmers. He expected to find a different breed of people, genuine, hardscrabble farmers cut from a different sort of cloth. He imagined days of work followed by evenings on an antique porch, and he expected to write about the struggles of middle-American farm life.
"What I found is that these were real people," he says. "They had hopes, and they had desires, and they had faults, and they had triumphs. And you can't pigeonhole them as farmers because they're not just that."
A three-day visit extended into a three-week stay. He immersed himself in the farm's and the family's daily lives. He felt the sun on his back and laughter in his ears, but he couldn't stay.
"You're off for a couple days, and the river starts to call, and, when you're off for too long, it starts to scream, and in the end I had to leave, even though I had found these friends," he says. "It was so intoxicating, but then you shake hands with these people, you're put back on the river, you put on a brave face and then they're out of sight."
On two other occasions, casual visits evolved into long-term relationships. Once in Hannibal, Mo., where Moore found a literary context for his adventure in the work of Mark Twain, and once again in Oxford.
After he pulled his canoe out in New Orleans, after he documented life along the river in almost every fashion from agriculture to arts to prison life at [Louisiana] State Penitentiary [at Angola], Moore devised a plan to write a book, a plan that would put him back in touch with the places he loved.
He revisited the farm in Iowa, went back to the Mark Twain Museum in Hannibal and made its director his [co-author] and then came to Oxford to write.
The book, "Down the Mississippi: A Modern-day Huck on America's River Road," will be a literary nonfiction account of Moore's journey spliced with Mark Twain quotes and musings. The project will take several months to complete, and that's just fine with Moore. Already a familiar face on the Square, he says he's charmed and excited to integrate into the center of Southern literary culture.
The book satisfies Moore's need to write and document. He came to journalism through literature, and he says he is driven by stories. There's no question about that. For years, Moore has reported in Africa and Asia as an unpaid citizen journalist. He teaches English in Taiwan to make money, and then he goes reporting again, journaling whatever lives and places he finds interesting just to get the stories out there, just to share.
But he does hope to be paid for his efforts soon. The book may bring in something.
Plus, with almost 400,000 views of his "iReport" on CNN.com, there's also the chance that the media giant might pay him next time.
But in the meantime, he says, "I'm able to do exactly what I want. I'm able to shoot video. I'm able to take pictures. I'm able to write stories. And, for the first time ever, I have a lot of people who end up seeing these stories. For me, it's life-changing in that way. So it's not for the paycheck. It's for the love of the story. It's for the love of the challenge."
——————–
FEBRUARY 5, 2010
QUINCY HERALD-WHIG: CNN journalist returning to Hannibal to talk about trip down Mississippi River by canoe
By RODNEY HART
Quincy Herald-Whig Staff Writer
HANNIBAL, Mo. — Neal Moore promised to return to Hannibal after an epic 2009 canoe trip down the Mississippi River.
An "iReporter" and citizen journalist for CNN, Moore makes good on his promise Saturday at the Mark Twain Boyhood Home and Museum. He'll share tales of his trip and talk about being only the second person to ever spend a night in the boyhood bedroom of Samuel Clemens.
"It was about taking myself out of my comfort zone, but also putting myself in a number of firsts," says Moore, who compiled 50 video reports during his trip. "It was the first time I've ever been to an Indian pow-wow, the first time I've been on a sustainable farm, the first time I've ever been in Hannibal."
Moore is just as interesting as the river stories he encountered. He grew up in Los Angeles and has a degree in English literature, and the travel bug has taken him around the world.
He keeps an apartment in Tapei, Tawain, and has been to Africa and Asia teaching English through American Red Cross programs. His next job is hopefully covering World Cup soccer this summer in Africa.
While looking for "strictly positive stories" from America's heartland, he decided on paddling down the Mississippi River. He left Minnesota in July and didn't finish the trip until December in New Orleans.
"We were thinking, why not go down America's great river road?" Moore said.
Most of his reports were filed to CNN.com, with several running on the regular CNN and CNN International broadcasts. He used portable wireless technology, his trusty and battered Macintosh laptop, and a video camera to record his trip.
In his 16-foot Old Town Charles River canoe, Moore encountered one fascinating story after another. He camped on river islands and learned to adjust on the fly — his planned four-day stop at sustainable farm in Iowa turned into a 2 1/2-week adventure where he filed six stories.
Moore took footage, then would find a restaurant in town to recharge his equipment, edit his stories and send them to CNN.
Moore said he knew Hannibal was a must-stop because of the Mark Twain tourism and restoration stories, but he was unprepared for the friendships he developed. He arrived in September and after a few days was invited to spend a night in the home where Samuel Clemens once slept.
"Hands-down the most exciting time of my life," Moore said. "I didn't sleep that well, and I got up in the morning and looked out the window, and you could see the Mississippi River. You could see the view to his (Clemens') world, his view at that impressionable young age."
Moore said he was so impressed with the warmth displayed by Hannibal's leaders and citizens that he literally cried when he left, and he vowed to return.
He is in the Hannibal area for several days working on a book about his adventures, and will share his stories at the museum Saturday.
"I realized the story was my story — I was the modern day Huck Finn," Moore said. "When I left, the rest of the trip turned into Twain's river run."
— rhart@whig.com/221-3370
——————–
JANUARY 24, 2010
AITKEN INDEPENDENT AGE: All is not lost if the baton is still airborne
By KATHLEEN PAKARINEN
AITKIN, MINNESOTA (Aitkin Independent Age)
"He who wanders is not necessarily lost."
That's what the sign in the store window in Stillwater said. "Necessarily" is the operative word there. Well that and "Stillwater." Still waters reportedly run deep but they don't "necessarily" get you anywhere.
Me, I'm an accidental wanderer. Two of my main exit roads out of Twin Cities were unexpectedly closed for repairs last Sunday. That sent me on a quest that … well … I guess you could call it "stimulating" – my own personal "Stimulus Package," all tied up in a tightly knotted ribbon of road work.
Neal Moore, "unpaid and unprofessional" reporter for CNN and citizen of the world, is what you might call a "purposeful wayfarer." But even he was just looking for food and an internet connection when he stumbled on the Relay for Life story that landed Aitkin on CNN last week. He was paddling his canoe down the Mississippi, searching for positive stories about communities pulling together in tough times. He spent two extra days at the county campground because he couldn't bring himself to paddle by our newly-painted purple storefronts and the story of how we work to benefit each other.
"It sounds cliche but I think the cancer story and Austin's simple take on it all might be relevant for more than the disease he fought – the idea of being strong and brave – a possible cure for tough economic woes as well."
Those were Moore's last words before he headed on down river. He was talking about Austin Price, now 6, whose hard-won survival paved the way for Kathie Smith's young children when she was diagnosed with colon cancer. It was just the angle Moore was looking for – the baton passing from Austin to Kathie and her kids, and family and friends holding benefits for both of them. By the time all 500 of those baton-passers at the Relay crossed the finish line, they'd lighted 2,000 luminaries and raised $45,000 to benefit their own battles and the one still being waged by the American Cancer Society.
For a road-weary reporter, Moore managed to shed a whole new light on this old town. Times are tough here. Keeping those storefronts full has always been a challenge and now there are more foreclosures and layoffs. Cancer can strike at any moment like a bolt from the blue. In a small town like this, everybody minds everyone else's business. That can be a burden but, when a really serious burden lands on someone's shoulders, people step up to help lift the load, hold a benefit, pass the baton …
For a man on a mission to dig up uplifting stories about communities finding ways to navigate unfavorable currents, Aitkin's story was one that deserved to travel far and wide. But what about someone who's been known to show up at work with a scarf over her bald head and hope that no one notices, someone who takes one wrong turn and ends up spinning around in strange metropolitan circles? What does someone like that take from all of this?
Maybe that Aitkin is just the place she didn't know she was looking for. It's hard to get lost in Aitkin but, if you really lose your way, someone will take notice.
——————–
DECEMBER 21, 2009
Packandexplore.com: Canoeing the Mississippi River
By Craig Guillot
NEW ORLEANS, LA (Packandexplore.com)
Dubbed a "modern-day Huck Finn," Neal Moore spent six months canoeing the entire length of the Mississippi River from Lake Itasca, Minnesota to New Orleans. His mission was not only to document his canoe journey but also report on and participate in positive and uplifting stories of American communities along the way.
Paddling the entire length of the Mississippi was a major venture. What inspired you to do it?
There were a number of inspirations for this expedition: Mark Twain, Dan Eldon and Eddy L. Harris. I was looking for a unique adventure that would provide an ongoing opportunity to find and document positive American stories. With Twain's Huck Finn came the idea of absolute freedom; from Dan Eldon came the thinking of taking myself out of my comfort zone as well as life as safari; and from Eddy L. Harris came the realization that America's River Road is absolutely doable.
I see you've got a lot of adventures under your belt but have you done anything of this magnitude?
Nothing whatsoever. As a traveler you spend a great deal of time with your fellow expatriates, often in extremely exotic locales, hypothesizing the perfect trip. But the realization of actually putting yourself out there was a new concept in my life that in the end, had to come from within.

The Mississippi River is quite narrow near its source but it can be a crowded busy waterway with strong currents as you get farther South. How did the paddling change as you made it further?
I've gotten into trouble describing the Mississippi River as a forgiving river. But in the context of stages this is the correct way to describe it. By the time you reach Minneapolis you've got 500 river miles under your belt and you're not only ready for your first lock and dam – you're actually looking forward to it. By the time you reach St. Louis, now with 29 locks and dams behind you, you're ready for a river unbridled. From the confluence of the Ohio and Mississippi on down, you've got a serious river with moods and debris and at times, some serious river traffic. But until you get to Baton Rouge, its still by and large wild and at times you can go for a good portion of your day without seeing another living soul.
What's the craziest thing that happened on the trip?
One of the most dangerous parts of the voyage came post Cairo, Illinois, when I camped out on a then rare sandbar in the middle of the Mississippi. It had rained for the past five days and the current was both swift and strong. By midnight the waves were lapping directly at my tent and so I pulled up stakes and moved to higher ground. As it turned out, the water rose five feet that night and as such, the waves found me yet again by six am, which was when I was in essence evicted off the island. My lantern hanging from a tree looked like a hurricane lamp blowing in the rain and wind and as I got into the canoe with everything I could grab, I was out there quite alone with my thoughts – in the dark, rolling with the waves, dodging logs that I could hardly see – questioning my own sanity.
What were people's first impressions when they found out you were paddling the entire river?
This makes me think of the old cliché – there's a fine line between genius and insanity. Some folks would tip their hats to you, others would view you as a vagabond, while others still would flat out tell you that you were going to die. I think the biggest commentary came down to the final stretch in what is referred to at "cancer alley" – the home stretch between Baton Rouge and New Orleans. It was here that tow pilots would either applaud, hooping and hollering into their loudspeakers, or else curse you out – calling you a scumbag that had no place on a river their family had worked for multiple generations. In the end, I think you have to listen to your own voice – willing yourself to make it, to survive the hard times, and to see yourself through.
In terms of the people and stories you encountered, what would you say were some of the most memorable?
The most memorable encounters were the characters that you brush along such a sojourn – the ones that you'll never again meet that you'll think about for the rest of your life. The fisherman in Versailles, Minnesota that literally tipped his hat to the trip; the boy at La Grange, Missouri that named my craft "The Andrea"; the traveling singer-songwriter in Oxford, Mississippi that sang just like Bob Dylan.
What kind of canoe did you paddle?
An Old Town "Charles River RX" – 16' 3" Royalex canoe that was first designed in 1903.
Did you have any logistical support along the way? Any interruptions (weather, equipment problems, etc.)?
The only logistics were contacts in a handful of key towns where I had planned to tell a story. But by and large the journey was about freedom and not having a deadline or a contact to steer you in their direction. There is something wondrous about pulling your canoe into a quaint little town, either under their bridge or into their campsite, setting up your tent, and striking out on foot in search of the old town center. When it came to the weather, by and large you have to just deal with it. A system will move in and if you're surrounded by wetland there is nowhere to step out. You're going to get wet but the rule is that at some point you're going to dry out. Which is where the importance of good equipment comes into play. The key piece of equipment besides your canoe is your tent.
In one of your videos you talk about "getting outside of your comfort zone." Would you say that partly defines adventure?
I'd say this is the key ingredient – the other byline borrowed from Dan Eldon – "Safari as a Way of Life." Turn the TV off – and go out and explore. It can be as simple as taking a different route home from work or as elaborate as spinning the globe in search of the next great journey. But having lived and explored and traveled the world – what I learned from my Mississippi River trip was the fact that sometimes the greatest of all expeditions can take place directly in your own back yard.
——————–
DECEMBER 16, 2009
CNN's iReport Blog: An Incredible Journey
By Henry Hanks
ATLANTA, GEORGIA (CNN) —
Team iReport had a very special visitor last Wednesday: globe-trotting iReporter Neal Moore. He has lived in Taiwan, South Africa, Namibia and Thailand, among other places, but this time he came back to the U.S. for one of the biggest journeys of his life: a four-and-a-half month canoe trip down the Mississippi River from Lake Itasca, Minnesota to New Orleans, Louisiana, on a mission to iReport the positive stories he found along the way. Fresh from this extraordinary trip, Moore had a lot to tell us about this uplifting experience.
Being a Mark Twain fan, he said he will never forget having the rare opportunity to spend the night in Twain's boyhood home. But one highlight of his trip took him by complete surprise: his visit to the Louisiana State Penitentiary, surrounded on all sides by the mighty Mississippi. He found that conditions there had improved substantially from just several years ago when it was known as "the most dangerous prison in America."
"It was sort of life-changing to go in there and to meet people who are in prison like this who are stepping up and accomplishing something through communication," he said.
Regardless of where he went, Moore left feeling more positive about his home country than ever before. "From the top of the river down, I would find communities who are rallying around a central cause or theme, putting their best foot forward," he told me, "whether it be Mark Twain, literacy, or fighting cancer."
Moore will never forget this trip, and we will never forget meeting him. Click here for more of CNN's special coverage of his journey, and watch for him on this month's edition of "iReport for CNN" on CNN International.
——————–
NOVEMBER 4, 2009
THE OXFORD EAGLE: Journalist tells American tales on journey down Mississippi River
By ALYSSA SCHNUGG
OXFORD, MISSISSIPPI (The Oxford Eagle)
Spending the last 20 years overseas in Africa and Asia, citizen journalist and creative activist Neal Moore has returned to his native country to get reacquainted with its natural beauty and its people, and to share their stories with the rest of the world via CNN's iReport series and his own Web site.
Moore has been traveling down the Mississippi River in a canoe since July 10. His goal is to travel the entire length of the mighty Mississippi – 2,320 miles, from its source in Lake Itasca in Minnesota to its mouth in the Gulf of Mexico – by December.
Along the way, Moore stops at neighboring cities and towns and reports on local community projects, highlighting what makes each area special.
"This trip is really to take myself out of my comfort zone," Moore told The EAGLE Tuesday. "When you do that, incredible things can happen. It's really exciting to be surrounded by the wilderness. It makes you feel wild as well."
Telling 'real' stories
Born and raised in Los Angeles, the 38-year-old says he always loved to travel. Twenty years ago, he moved to Africa. From there, he moved to Taipei, Taiwan, but returns often to Africa and on occasion the United States.
His trip is being documented as part of CNN's iReports, which allows non-professional journalists to "report" stories from around the world. He hopes his stories will show those living in other countries what America is really like.
"I want them to see it from the inside," he said. "Real towns, real people with real stories, through the lens of my camera. Having the opportunity to share those stories with the world via CNN is a very exciting prospect."
Strong currents
So far, Moore has visited Minnesota, Wisconsin and Iowa. In Mississippi, he's been to Clarksdale and Tupelo where he featured Mississippi's blues history.
In Oxford, he's doing two reports — one on Alzheimer's and the other on literacy.
"I will be featuring a young mother of two who wants to break the cycle of illiteracy in her family," Moore said.
Moore admits his canoeing skills were on the weak side when he first began his journey.
"I'm an Eagle Scout, so I did learn basic canoe skills, but I haven't been in one since I was 12 years old," he said. "When I tell these towns what I'm doing, they think I'm nuts. The Mississippi River can have a strong current in some spots and can have real dangers. But it's a beautiful river and, if done safely, it can be a life-changing experience."
To follow Moore on his trip, visit his Web site at http://www.flashriversafari.com.
——————–
SEPTEMBER 25, 2009
QUINCY HERALD-WHIG: Sleepover in Twain's home a moment 'citizen journalist' will never forget
By ED HUSAR
QUINCY, ILL. (Quincy Herald Whig)
NEAL MOORE got a lot more than he expected when he landed his canoe in Hannibal, Mo., last weekend.
Moore is a "citizen journalist" paddling the length of the Mississippi River in search of stories about communities doing good things. He shares the tales on his blog (flashriversafari.com) and through periodic dispatches on CNN.
Upon arriving in Hannibal, Moore learned about a campaign to raise $10 million to help preserve eight buildings associated with Mark Twain, whose boyhood years in Hannibal inspired some of the greatest works in American literature, notably "The Adventures of Tom Sawyer" and "The Adventures of Huckleberry Finn."
As Moore was interviewing Hannibal residents for his story, Mark Twain Boyhood Home and Museum officials became enamored by this modern-day Huck's quest for adventure and good news. So they made him an amazing offer.
Moore was invited to spend a night in Twain's boyhood home on Hill Street. He'd be allowed to sleep in the room where Twain, then known as Samuel Clemens, bedded down from age 3 until he left Hannibal at 17.
Only one other person in the past century has been allowed to sleep in the home. In the late 1960s George Seybolt, CEO of the William Underwood Co., selected Hannibal for a new plant, known today as General Mills. Seybolt also had a lifelong affection for Twain and asked if he could spend a night in the boyhood home.
Approval was given, and Seybolt slept on a cornhusk-filled mattress. "The next morning he left a check in the amount of $500 on the pillow as a thank you to the museum," said Henry Sweets, curator.
Now Moore was being invited to enjoy a similar sleepover. He jumped at the chance.
According to his blog, Moore was served a meal Monday evening in the home's dining room, courtesy of the Garth Mansion. Then after bidding goodnight to "what felt like half the town" gathered outside the front door, Moore retreated upstairs to Twain's bedroom.
Moore spent about an hour reading "Tom Sawyer" while soaking up the atmosphere.
"Reading 'Tom Sawyer' in the boyhood bedroom of Sam Clemens was just too great an experience to put into words," Moore said in an e-mail interview. "I guess the one word that would describe it best would be 'surreal.' "
At around midnight, he crept down the back stairs and wandered over to the nearby former home site of Tom Blankenship, the inspiration for Twain's Huck Finn character.
"I brought my lantern to make it exciting," Moore said. "And I was by myself — alone with my thoughts, which I shared via the camera of my laptop computer. For the first time the character of Huck became real for me."
Later, back in Twain's bedroom, Moore positioned his sleeping bag in the exact spot where Twain would have laid his head.
"I slept on the floor with the door open. The house was hot and stuffy — in a magical sort of way, bustling with antiquity, with history," he said. "The sounds I heard were of the insects and birds of the night. The odd passing car. No cats. The trains and tow boats didn't interfere with my sleep."
Moore slept from about 1:30 to 6:30 a.m. Then, with his dream experience over, he climbed back into his canoe and started paddling to his next destination, St. Louis.
The adventure of a lifetime was tucked away safely in his heart.
To visit Ed's story at the Quincy Herald Whig CLICK HERE
——————–
SEPTEMBER 23, 2009
HANNIBAL COURIER-POST: 'Huck' departs Hannibal
By DANNY HENLEY
HANNIBAL, MO (Hannibal Courier-Post)
To visit Danny's written piece from the Hannibal Courier-Post CLICK HERE
——————–
SEPTEMBER 23, 2009
HANNIBAL COURIER-POST: Clemens contribution
By DANNY HENLEY
HANNIBAL, MO (Hannibal Courier-Post)
——————–
SEPTEMBER 23, 2009
HANNIBAL COURIER-POST: Sleeping in Twain's room
by DANNY HENLEY
HANNIBAL, MO (Hannibal Courier-Post)
via AOL VIDEO (UK) — Now on Youtube…
To visit Danny's written piece from the Hannibal Courier-Post CLICK HERE
——————–
SEPTEMBER 21, 2009
HANNIBAL COURIER-POST: Modern day 'Huck' sleeps in Twain's bedroom
By DANNY HENLEY
HANNIBAL, MO (Hannibal Courier-Post)
There are countless reasons for not getting a good night's sleep. In Neal Moore's case, excitement over where he was allowed to spend Monday night likely kept him from getting much shut eye. Moore, a citizen journalist with CNN, was given the rare opportunity to spend the night in Mark Twain's Boyhood Home in downtown Hannibal.
"I'll be shocked if he sleeps one wink. I'd be too excited," said Dr. Cindy Lovell, executive director of the Mark Twain Boyhood Home and Museum, noting that Moore was going to bed down in the same room that a young Samuel Clemens had once called his own. "I don't know if I could fall asleep in that room."
Asked Monday afternoon if he thought he'd get much sleep, Moore wasn't making any predictions.
"I'm not sure about that. I might actually try to sneak out and see what sites I can see around town, but we'll see," he said with a smile.
Since George Mahan purchased and saved the house from being demolished in 1912, only one other person has been allowed to spend the night in the boyhood home. According to museum curator Henry Sweets, George Seybolt, then-CEO of the William Underwood Company and a Mark Twain fan, slept there on a mattress filled with cornhusks in the late 1960s.
"It's the dream of every boy and tomboy I guess you could say for the last 100 years. To have the chance to be the second person in 97 years is just a very humbling experience," said Moore of spending the night in the boyhood home. "It's the most exciting thing that's ever happened to me I think by far in my life."
Allowing Moore, who will be making his way down the Mississippi River via canoe over the next few months, to spend the night in the historic site was not a difficult decision.
"Where are we going to get a modern day Huckleberry Finn like this, doing what he's doing, taking the citizen journalist approach?" asked Lovell. "You think of how Mark Twain started out as nobody famous. He was a regular reporter like everybody else, so the tie-ins are there with him (Moore) being a reporter and with him being on the river. It just felt right. He (Moore) is a really nice guy, really sincere and looking for positive which is so unusual in today's world."
One of the positive stories that Moore has been following during his brief stay in Hannibal is the museum's "10 by 10" endowment fund-raiser campaign, which has as its goal raising $10 million by the end of 2010. To achieve that goal, one million Twain fans around the world are being asked to donate $10 each.
"He's out there telling our story," said Lovell. "It just kind of went together with what we're trying to do involving grassroots people. He's definitely a grassroots kind of person."
The museum will officially launch the "10 by 10" campaign on Saturday, Oct. 10, when all $10 donors are invited to sign their name on the famous whitewashed fence. Moore will make a $10 donation and be among the first to sign the fence, according to Lovell.
Photo by Danny Henley. Go to the Hannibal Courier Post HERE
——————–
SEPTEMBER 19, 2009
HANNIBAL COURIER-POST: CNN Reporter: Hannibal is most certainly America's Hometown
By DANNY HENLEY
HANNIBAL, MO (Hannibal Courier-Post)
It is not uncommon for visitors to Hannibal to leave with tales to share. Neal Moore will be no different, only his stories may reach an international audience.
Moore, who describes himself as an unpaid "citizen journalist" for the Cable News Network (CNN), is wrapping up a brief visit after arriving via canoe earlier this week. Moore's stop in Hannibal is part of a five-month trek down the Mississippi River, which he anticipates will end in early December when he reaches New Orleans. Moore admits that Hannibal is a destination he's been looking forward to reaching for years.
"I've read about and dreamed about the Mississippi River, and of course Hannibal, Mo., my entire life," he said.
Wherever Moore paddles ashore it's with the objective of finding "straight, positive, American" stories.
"With these stories coming down the river, really the backdrop is the economy. But instead of going straight for that I'm highlighting different ways that communities are rallying together. Whether they're rallying around fighting cancer or a living legacy of somebody like Mark Twain or like Charles Lindbergh in Little Falls, Minn., folks rally around a cause in these trying times. You find people stand up and help each other out and it's inspiring, not only for the town itself, but for everyone who can actually see that story."
In Hannibal, Moore has had no trouble coming up with stories to tell.
"There's too many stories here. It's the kind of town you could spend a lifetime in and you would never run out of stories. It's obvious, you take one look at the town and citizenry and you can see these are real people. They have ups, they have downs and it's very positive right now," he said.
Moore's impressions of Hannibal are varied.
"It's a very eclectic community, rough and tumble. I've heard that expression a few times. You have to be rough and tumble in a port city like this going back to Sam Clemens' time," he said. "You have that aspect. You also have the artists and sort of the melting pot right here downtown with the reconstruction of downtown Hannibal with the excitement in the air, folks coming together and putting their best foot forward."
Although a world traveler, Moore confesses that he was anxious to begin his trip down the middle of America.
"The biggest surprise is just really how wonderful a trip like this is," he said. "I've been around the world several times, but really I'm more excited about this trip … this adventure than I have been about anything in my life. Part of it is the nature. Part of it is these small towns, these big cities and the challenge of the story as well and to chase these stories and find new stories, and really highlight America for myself and my own life, but also for an American audience and potential international audience via CNN."
As much as Moore looked forward to the trip, he acknowledges it also represents a personal challenge.
"The whole idea for my trip is to take myself out of my comfort zone. By doing that you open yourself up to incredible things – good, bad, ugly and the positive as well, and that's when you grow and you learn," he said. "To actually come down for the very first time and touch it in this way via canoe, it's a perfect mode of transport. It's America at her finest and this town is most certainly America's Hometown."
Photo by Danny Henley. Visit the Hannibal Courier-Post HERE.
——————–
SEPTEMBER 9, 2009
PdCToday.com: Canoeing Citizen Journalist Highlights Prairie du Chien, Iowa Farms
By DAN MORIS
PRAIRIE du CHIEN, WISC (PdCToday.com)
Neal Moore is canoeing the Mississippi River by himself seeking positive stories in Middle America. His canoe and camera found the Prairie du Chien area last week. "I can really appreciate a town – and area – like this," says Moore, "and that's highlighted in the videos."
Read Dan Morris' complete story from the PdCToday.com Online Community Newspaper here.
——————–
AUGUST 6, 2009
AITKIN INDEPENDENT AGE: He took Aitkin along for the ride
By KATHLEEN PAKARINEN
AITKIN, MINNESOTA (Aitkin Independent Age Newspaper) —
Every town has a story every day but some days are better than others. While Aitkin was busy painting the town purple last Tuesday, a citizen journalist with CNN just happened to be passing through by canoe. That's right – CNN in Aitkin by canoe.
And it gets better.
Neal Moore who calls himself an "unprofessional, unpaid citizen journalist" has a relationship with CNN and the report he did about purple Tuesday in Aitkin was posted on the website on Wednesday morning and, by the afternoon, it was tagged "On CNN," meaning it's now featured on their iReport.com main page. If you were watching CNN at 10 a.m. last Thursday morning, you were among the first to see Moore's report on Aitkin as it hit the airways.
Everywhere it leads
Just like he's doing with the river, he followed the story everywhere it led. The purple on the store windows led him to the story about the Aitkin Area Relay for Life and that brought him into our office. We led him to one of our front pages and Elaine Hill.
And she's just one of many local people featured in the 15-minute film – people like police officer, Tim Catlin; business owner and cancer survivor, Sue Fox; and Adam Mehr, an AHS and recent college graduate who was having coffee with his mom and sister in front of the Beanery.
By the trails end, Moore had interviewed Kathie Smith, the honorary chair of this year's relay, and Austin Price, a 6-year-old whose battle with the disease helped Kathie's kids deal with their mother's diagnosis.
On the river road
Moore is a novice behind the paddle but even though he says he's just a "citizen," he's an experienced journalist. He grew up in Los Angeles and his degree is in English Literature but he has been traveling and writing in Asia and Africa for 20 years while he was also teaching English. For the last year, he has been iReporting for CNN as a citizen journalist. He said that a lot of his reports end up on CNN.
Moore expects to put in five months on the story he was chasing in Aitkin last week. He is combining his first long solo canoe trip down the Mississippi with stories that highlight community projects. He started at the headwaters near Bemidji and he won't reach the end of the long and winding river road until he reaches New Orleans.
"I'm looking for positive American stories … genuinely postive from all facets, all angles," he explained.
Going global
So far on the river, four of his stories have landed on CNN – Homesteaders Protect the Upper Mississippi at Wanagan's Landing, The Andy Wells Interview from Bemidji, Passing on the Dance of the Ojibwe from Ball Club and, last but certainly not least, Small Mississippi River Town Rallies Against Cancer in Aitkin.
He hopes his stories will shed a positive light in difficult times – a light on an America of "real towns and genuine people."
He was including the story he happened upon last week in Aitkin when he said, "These are wonderful stories that I hope will inspire the rest of the nation and even the world, bringing international understanding."
Unlike Aitkin's, some of the stories have been predetermined including one about Practical Farmers of America in Iowa, another on the Rocky Lynne country band in Nashville and their performance for charity and one more on the Habitat for Humanity in Nachez near New Orleans, La.
The Aitkin story was an accident. After spending Monday night at the county campground on the river, Moore walked into to town for food and supplies. As soon as he hit downtown, he saw purple and the rest is his story. Well, his and Aitkin's – soon to be the nation's and, who knows, maybe the world's.
And the best part is
"A single traveling bachelor," Moore's most trusted traveling companions are a small video camera, a pocket-sized notebook, his cell phone and his laptop. He shoots and edits his video and writes a story to accompany it before uploading them to the site.
Besides CNN, he works in association with Creative Visions Foundation and Kathy Eldon. Eldon launched the foundation in honor of her son, Dan, an artist, adventurer and activist who was killed in 1993 while on assignment for Reuters News Agency in Somalia.
Creative Visions Foundation supports "creative activists," individuals who use the media and the arts to create positive change in the world. Through its for-profit sister organization, Creative Visions Productions, the organization has produced award-winning television and film projects. Moore said Eldon has been a mentor for him and a great source of moral support.
Preparation for his challenging mode of transportation included little more than his background as an Eagle Scout and a book he read (Mississippi Solo, A River Quest) by Eddy L. Harris that, according to Moore, is the "best book ever written on the subject."
"He helped to inspire me," Moore said.
He sees the river as the perfect metaphor for his journey, explaining: "It starts as a trickle … There are 26 locks between Minneapolis and St. Louis but they get you through them."
You have to know where the major stumbling blocks are. After you get past St. Louis, the road gets rougher and, all along the way, the river gets wider. It's a long and winding road cutting straight through the center of the American heartland.
"Like T.E. Lawrence [Lawrence of Arabia] said, 'I ride in the name of the clan' – to highlight something bigger than myself," Moore said.
That's exactly what he found here in Aitkin – a small town pulling together, rolling up their purple sleeves, getting ready to join a cross-country relay race against the nation's most dreaded disease.
"I have a really good feeling this story will go far and wide," Moore said about the Aitkin story he calls, "Small Mississippi River Town Rallies Against Cancer."
Far and wide – just like the river that runs through it.
Photos by KATHLEEN PAKARINEN
Read the Aitkin Independent Age story
Read Kathleen Pakarinen's complete story from the Aitkin Independent Age Online Newspaper here.